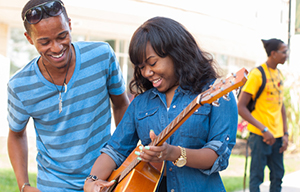 Welcome to Bowie State University (BSU)! Your college career begins when you sign up for New Student Orientation (NSO), a three-part program designed to help you get started at BSU. During NSO, we work to help you get familiar with the campus; test your reading, writing and math skills and help you select your first classes.
Freshman Students
---
NOTE: If you are part of the Bulldog Academy, your orientation session will be scheduled for you.
One-day sessions
June 10
July 23
August 12
August 19
Three-day sessions (with two overnight stays on campus)
June 14–16
June 21–23
June 28-30
July 26-28
Discover BSU Orientation
Discover BSU is your introduction to campus life! New students will receive a BSU T-shirt and book bag, meet new friends and student leaders, learn about important campus departments, and participate in evening activities. Meals are included.
For more information, contact Ms. Tamisha C. Jackson: (301) 860-4406 or discoverbsu@bowiestate.edu.
Placement Testing
If you are a first-time freshman, or a transfer student who has not completed your English, reading, and math requirements, you cannot register without taking placement exams. Your exam results will determine which courses you can take.
For more information, contact Ms. Gayle Fink: 301-860-3403 or gfink@bowiestate.edu.
Academic Advising
The Academic Advising Center team provides academic advising services in one-on-one and group settings. We advise new freshman and transfer students during NSO and will continue to advise you each semester until you complete your sophomore year. If you are majoring in nursing, computer science, English or social work, then you will see an advisor in your major department.
For more information, contact Dr. Yvette C. Galloway: 301-860-4072 or advisingbsu@bowiestate.edu.