On Campus Recruitment :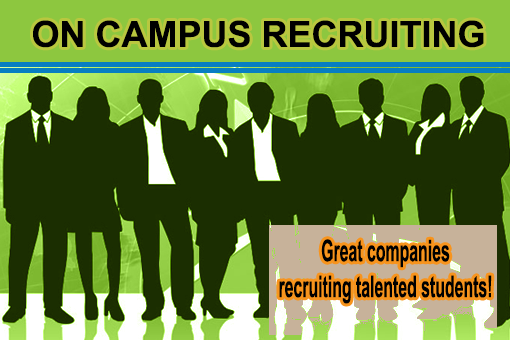 On-campus recruitment (OCR) provides students and alumni with the opportunity to interview for internships, co-op and full-time employment.
These are the listings of employers who are coming to recruit on campus. Click on the employer name to read more details about their visit and company. In order to participate in OCR events, you must register to interview on Bulldogs4Hire.
Date of Visit:

Employer:

Information Table
January 27 & 28 and February 4

Vector

Information Table
February 6

Enterprise

Information Table
February 11 & 12

Prince Georges Police

Interviews
February 19
Business Management Internship

Interviews
February 19
Summer Counselor

College Board Upward Bound

Information Table
February 25

Continental Pools (Cancelled)

Interviews
February 25
2014 College Intern Administrative - Business Management

Information Table
March 5

Ardmore Enterprise

Information Table
March 5

Continental Pools

Interviews
March 5
Claims Representative

Information Table
March 6

United Rentals

Information Table
March 6

TEACH

Information Table
March 13

University of Maryland Baltimore
(School of Medicine)

Interviews
April 10

Information Table
April 10

Department of Juvenile Services