Northrop Grumman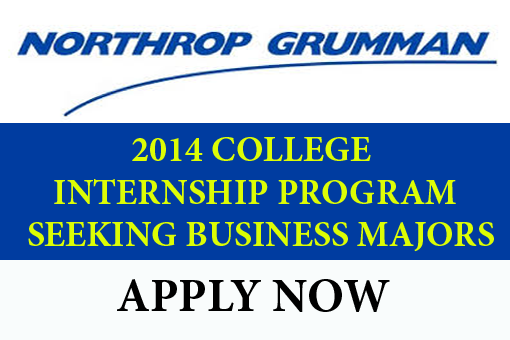 Northrop Grumman Corporation is a leading global security company providing innovative systems, products, and solutions in unmanned systems, cybersecurity, C4ISR, and logistics and modernization to government and commercial customers worldwide.

Northrop Grumman is committed to hiring and retaining a diverse workforce. We are an Equal Opportunity Employer, making decisions without regard to race, color, religion, sex, national origin, age, veteran status, disability, or any other protected class. U.S. Citizenship is required for most positions.
Interviews will be held for the following positions:
2014 College Intern Administrative - Business Management

Job Description:
Internships are a key strategy in the Electronic Systems (ES) Sector college recruiting program. Northrop Grumman Business Management is seeking college students to participate in its internship program at the Baltimore campus.

Interns will be exposed to typical assignments in accounting, contracts, procurement, material program planning, rates & budgets, financial planning, cost estimating, pricing, international finance, international trade management, program finance, scheduling, earned value management or business development. All assignments will be completed at the Baltimore, MD; Annapolis, MD; or Sykesville, MD campuses.

Interns will gather, collect, record, track, review, analyze and verify data and information from multiple sources. Interns will use software for functional area to compile and generate reports, statistics, timelines, tables, graphs, correspondence and presentations.

Basic Qualifications:


Active enrollment in an accredited bachelor's degree (or higher) program in Business Administration, Finance, Accounting, Supply Chain Management or Economics discipline.
Have completed at least sophomore year.
Have a minimum cumulative GPA of 3.2/4.0
Be available to work 10-12 weeks this summer for 40 hours a week.
Be able to obtain a U.S. Government security clearance (U.S. citizenship is a pre-requisite; a current clearance is helpful but not required).


You must apply online on Bulldogs4Hire to these positions.
** You must be a Junior, Senior or Graduate student within the Business Department.


If you are interested in registering for an interview, log into your Bulldogs4Hire account , and follow the steps in the Scheduling On - Campus Interview Guides.