Skillsoft E-Learning
SKILLSOFT TRAINING


Bowie State University is pleased to make available E-Learning professional skills developmental training in Skillsoft. This on-line catalog is a comprehensive offering of more than 3,000 courses developed to offer employees a wide variety of courseware-based-training opportunities designed to enhance critical business, professional and IT skills. We believe that this approach to training will support our commitment to provide employees with opportunities to grow and develop in their careers.
Important: You must be assigned a user ID and password before you can access SkillPort.
Please contact: Mary Harrison at 301-860-3455 or mharrison@bowiestate.edu to register.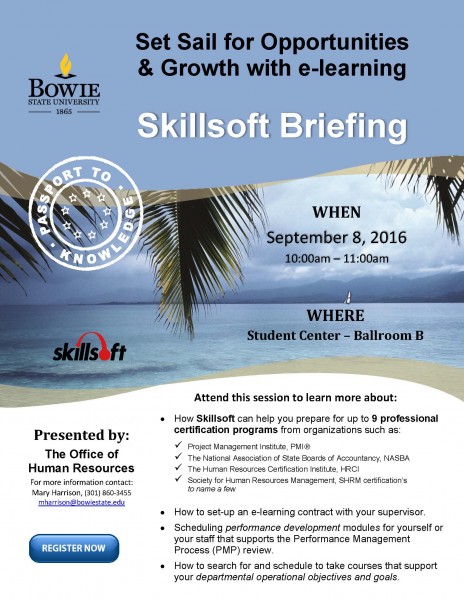 Skillsoft Academy New User Packet:
Skillsoft Login:

The courses available to you have been chosen from a wide range of topics, including:
Administrative Support
Business Law
Communication
Customer Service
E-Business
E-Learning
Finance/Accounting
Human Resources
Industry Foundations
Information Technology
Knowledge Management
Leadership
Management
Marketing
Operations
Personal Development
Project Management
Strategic Planning
Team Building

Benefits of E-Learning
Access training anytime, anyplace
Courses are interactive & engaging
Learn at your own pace
Take courses on the internet, or download them to your PC and work offline
Bookmark your place to return later
Save time over some instructor led training
Tips for Getting the Most from Your E-Learning Experience - Login at: www.bowiestate.edu/skillsoft
Attend a "Navigating Skillsoft" training session
Schedule your e-Learning just as you would if you intended to go to a class
Take Pre-assessments to pinpoint subject areas on which to focus
Use the reference materials and job aids that supplement the course.
Take the Mastery assessments to ensure you've learned what you need