WonderWorks presents "Secret Life Under the Stairs," 11am Performances
October 17, 2013 - October 19, 2013
11:00am - 12:00pm
Event Contact
Bob Bartlett
bbartlett@bowiestate.edu
301-860-3769
Description
WonderWorks is a new professional theater company at Bowie State University that produces shows for young audiences. Directed by Bob Bartlett, "Secret Life Under the Stairs" is a play about making friends and exploring an imaginative world.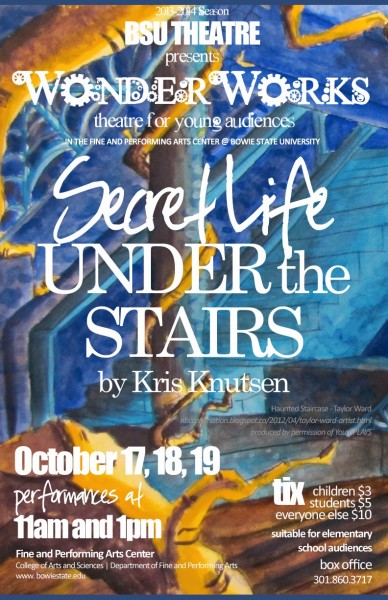 Location
Black Box Theatre, Fine and Performing Arts Center
Cost
$3 for children; $5 for BSU faculty, staff, students and senior citizens; $10 general admission

Box office opens 1 hour before performances. For ticket information, contact the box office at 301-860-3717 and rcharlow@bowiestate.edu.