Bowie State Male Initiative Expands Community Impact
October 28, 2015
New AmeriCorps Member Helps Build Ties with Woodland Job Corps
MEDIA CONTACT: Damita Chambers, dchambers@bowiestate.edu, 301-832-2628 (mobile)

(BOWIE, Md.) – In an effort to strengthen community ties, the Male Initiative at Bowie State University has expanded its reach to provide life skills training to young people in a local Job Corps career training program, thanks to the addition of an AmeriCorps volunteer through a grant awarded by the Maryland-D.C. Campus Compact.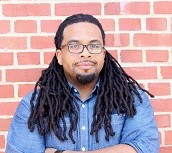 Throughout the school year, AmeriCorps VISTA Robert Fronta will coordinate the BSU Male Initiative's program called Mentorship Empowerment Network (M.E.N.). That program not only provides one-to-one mentoring to male students at Bowie State, but it now includes career and leadership workshops for young people in the local community through a partnership with the Woodland Job Corps and other groups. Based in Laurel, Md., the Woodland Job Corps is a free vocational program for youth and young adults administered by the U.S. Department of Labor.

"We're very excited about this partnership. It affirms our commitment to the success of the young men at Bowie State University and in our surrounding communities," said Tammi Thomas, chief of staff to Bowie State President Mickey L. Burnim. "It speaks volumes to have so much support. We look forward to even greater expansion and growth."

The AmeriCorps VISTA project is already starting to make an impact. Staff from the Bowie State Career Development Center have led workshops for students at the Woodland Job Corps – other staff, as well as BSU students, will also facilitate classes there. Fronta also leads activities to empower male Bowie State students to take on leadership roles in their communities. Earlier this month, he organized a group of BSU students to attend the Million Man March 2015 on the National Mall in Washington, D.C.

Since 2009, the Male Initiative at Bowie State has focused on advancing the success of male students at Bowie State to reach their full potential.

AmeriCorps VISTA is a federally funded national service program that equips citizens to engage in the community, sponsored by the Corporation for National and Community Service.
###

ABOUT BOWIE STATE UNIVERSITY
Bowie State University (BSU) is an important higher education access portal for qualified persons from diverse academic and socioeconomic backgrounds, seeking a high-quality and affordable public comprehensive university. The university places special emphasis on the science, technology, teacher education, business, and nursing disciplines within the context of a liberal arts education. For more information about BSU, visit the website at www.bowiestate.edu.