Bowie State University Celebrates Inauguration of 10th President
April 5, 2018
Dr. Aminta H. Breaux is the First Female President in Bowie State's 153-year History

MEDIA CONTACT: Damita Chambers, dchambers@bowiestate.edu, 301-832-2628 mobile

(BOWIE, Md.) – Bowie State University welcomes the community to join its celebration of the inauguration of Dr. Aminta H. Breaux as its 10th president and first female president in the institution's 153-year history from April 8-12. Dignitaries, including dozens of college presidents from around the country, will join the Bowie State University community for the historic installation ceremony on Thursday, April 12 at 11 a.m. View the ceremony live online.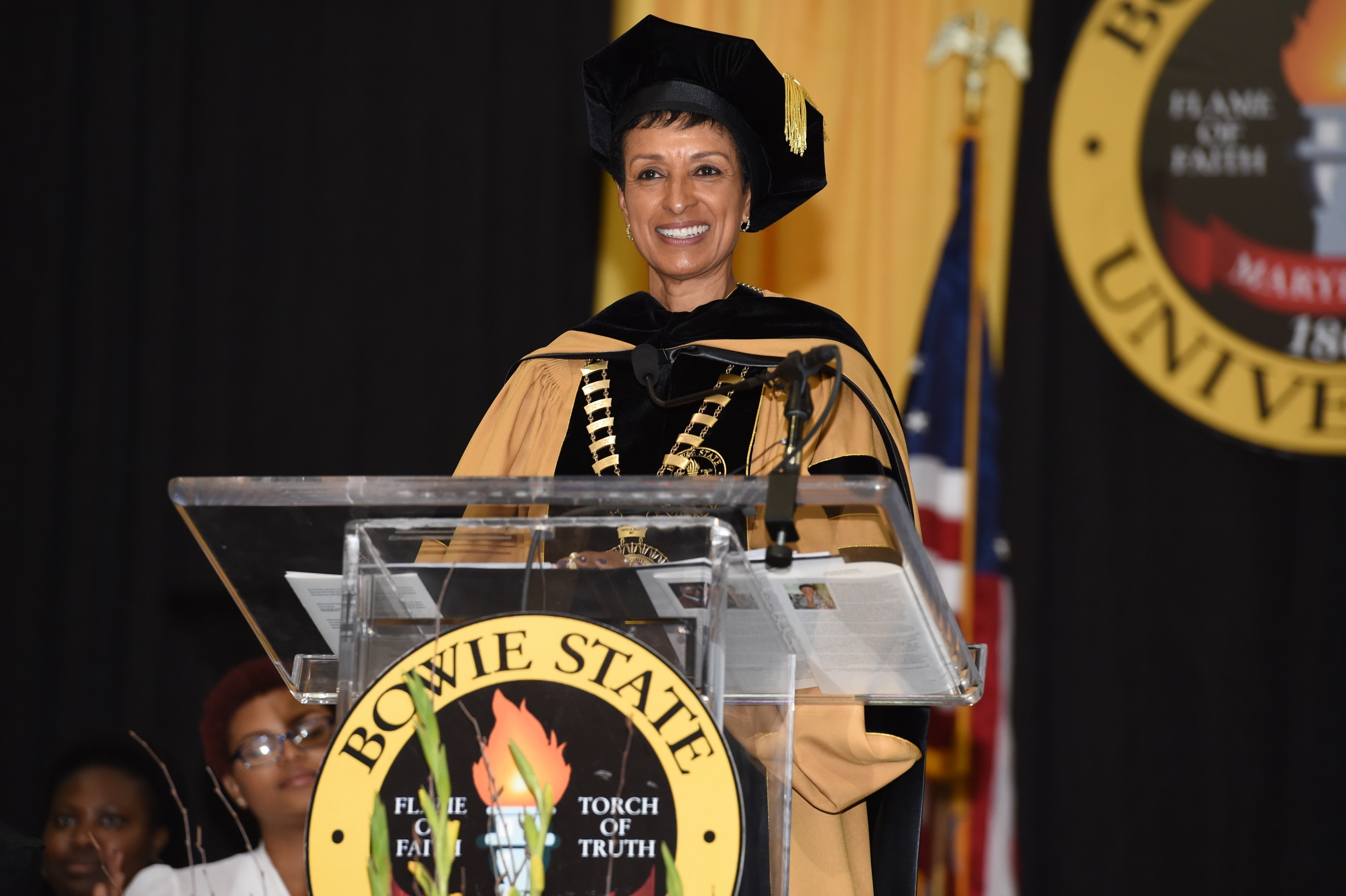 The Inauguration Week activities include a gospel concert, dance showcase, and performance by an award-winning R&B and funk band at a black-tie benefit gala. Each event reinforces President Breaux's vision, Racing to Excellence, and invites the community to join Bowie State in fulfilling its mission to strengthen the pipeline from preschool to college, making quality higher education accessible for all.

Here are selected highlights from the week (full event schedule at bowiestate.edu/inauguration-events):
Sunday, April 8, 2018
Pre-inaugural Gospel Concert | 4:30 p.m.
Martin Luther King Jr. Communication Arts Center, Myers Auditorium
Critically acclaimed, locally based recording artist Patrick Lundy & Ministers of Music, along with Stellar Award winner and Bowie State graduate Phillip Carter & the Sounds of Victory perform in a spirited concert, also featuring the gospel choirs from Largo and Oxon Hill High schools and the Bowie State University Gospel Choir.
Monday, April 9, 2018
Bowie State in the Community | 9 a.m. – 1 p.m.
(not open to the public)
Whitehall Elementary and Bowie High schools
President Breaux visits local elementary and high schools to interact with students, teachers and administrators, including a read-aloud with kindergarteners, an on-site admissions event and lunch with students who have been accepted to Bowie State.
View photos from the event.
Environmental Stewardship Event | 1–3 p.m.
Bowie Watershed, 3951 Evergreen Parkway, Bowie, MD 20716 (near Bowie City Hall)
Bowie State University faculty, staff and students join with the city of Bowie to pick up litter at a wooded and stream/swale area to help protect Bowie's streams, the Patuxent River and the Chesapeake Bay.
Tuesday, April 10, 2018
Achieving Excellence Through Research and Collaborative Experiences | 9 a.m.
Student Center, Wiseman Ballroom
Celebrate outstanding Bowie State scholarship at a symposium highlighting student, faculty, staff and alumni research and creative works.
View photos from the event.
Excellence Matters: An Artistic Experience | 5 p.m.

Student Center, Pub
BSU students showcase their talents in an open mic exhibition of creative expression portraying what academic excellence means to them.
View photos from the event.


Wednesday, April 11, 2018
153rd Founders Day | 10 a.m.
Martin Luther King Jr. Communication Arts Center, Myers Auditorium
Yohance Maqubela, son of the late comedian and civil rights activist Dick Gregory, will deliver the keynote address at the annual Founders Day, reflecting on the evolution of the university's leadership to its first female president.
Inaugural Dance Concert | 7 p.m.
Fine and Performing Arts Center, Recital Hall
Dancers from the Bowie State Dance Ensemble: Impact and local youth troupes pay tribute to President Breaux with a special dance concert, hosted in partnership with the Prince George's Arts and Humanities Council. BSU students in the Impact The youth dancers come from the Paula Brown Performing Arts Center and the Center for Visual and Performing Arts at Suitland High School. World-renowned Alvin Ailey American Dance Theater Artistic Director Emerita Judith Jamison will lead a public conversation and a private critique for the dancers ahead of their performance.
Thursday, April 12, 2018
Installation Ceremony of President Aminta H. Breaux | 11 a.m.
Leonidas S. James Physical Education Complex
The Bowie State University community celebrates the formal installation of Dr. Aminta H. Breaux as its 10th president.
View photos from the event.
Racing to Excellence Scholarship Gala | 7 p.m.
Camelot by Martin's, 13901 Central Avenue, Upper Marlboro, MD 20774
This black-tie gala features dining, dancing and live entertainment to benefit the Racing to Excellence Endowed Scholarship at Bowie State University. R&B and funk legend, The S.O.S. Band, is the headliner. NBC's "The Voice" Season 13 contestant and Bowie State graduate, Stephan Marcellus, will also perform a special selection.
###
About Bowie State University
Bowie State University (BSU) is an important higher education access portal for qualified persons from diverse academic and socioeconomic backgrounds, seeking a high-quality and affordable public comprehensive university. The university places special emphasis on the science, technology, cybersecurity, teacher education, business, and nursing disciplines within the context of a liberal arts education. For more information about BSU, visit www.bowiestate.edu.