Bowie State University Genetics Researcher Selected as an Emerging Scholar
January 27, 2017
Tyesha Burks Seeks 'Skeletal Muscle Foundation of Youth'

MEDIA CONTACT: Damita Chambers, dchambers@bowiestate.edu, 301-832-2628 mobile

(BOWIE, Md.) – A Bowie State University genetics professor, who is "in search of the skeletal muscle foundation of youth," was named a 2017 Emerging Scholar by Diverse: Issues in Higher Education, recognizing her research achievements and positive impacts outside of the classroom.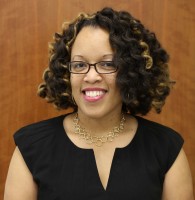 Dr. Tyesha Burks is part of a class of 12 professors, selected from hundreds of nominations from around the country, who represent rising stars in the academic world. Their scholarship spans multiple academic disciplines and has global implications.

For Burks, her research focus is to improve people's quality of life as they age by enhancing the health of their skeletal muscles. Her current study aims to prevent sarcopenia, a condition that robs the body of skeletal mass and function as we get older. It affects all people from elite athletes to couch potatoes. Current therapeutic strategies include strength and aerobic exercise. Since only 2 percent of older adults exercise regularly, scientists are exploring a more widespread therapeutic option.

"It is my goal for my research to affect the lives of as many people as possible," she said. "Everyone fortunate enough to reach 35-40 years of age can potentially benefit from my research."

A first-generation college graduate, Dr. Burks also recognizes the importance of being a mentor to the students she teaches, many of whom are the first in their families to attend college. She models the techniques of instructors who influenced her most by incorporating real-world examples into her lessons. She also strives to promote diverse career options and life skills by involving students in research and showing them how to build their personal brand.

"I rose above the perils of my neighborhood to earn a full scholarship to college, and my graduate school education was funded through fellowships," she said. "I also traveled around the world presenting and performing research. I want my story to serve as an example and inspiration to young people everywhere."
###


ABOUT BOWIE STATE UNIVERSITY
Bowie State University (BSU) is an important higher education access portal for qualified persons from diverse academic and socioeconomic backgrounds, seeking a high-quality and affordable public comprehensive university. The University places special emphasis on the science, technology, teacher education, business, and nursing disciplines within the context of a liberal arts education. For more information about BSU, visit www.bowiestate.edu.