Bowie State University Professor Named Apple Distinguished Educator
April 24, 2013
Allissa Richardson Honored for Classroom Innovation

MEDIA CONTACT: Damita Chambers, dchambers@bowiestate.edu, 301-832-2628 (mobile)

(BOWIE, Md.) – A Bowie State University communications professor was named a 2013 Apple Distinguished Educator for her use of emerging technology in creating a student mobile journalism lab.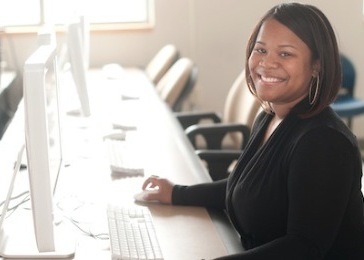 Allissa Richardson, a lecturer in the Department of Communications, is one of 200 educators from all academic levels selected among applicants from 37 different countries, including the United States, China, New Zealand and Turkey. She joins a community of more than 2,000 educators, recognized because of their passion for innovative teaching and their integration of Apple technology into the learning environment.
"We are doing cutting-edge work at Bowie State," she said. "This honor puts what we're doing on the map."
Richardson infuses technology into her online and mobile journalism courses for undergraduate students by equipping them with iPads and iPods that they use for recording news assignments. She has created a mobile journalism lab at Bowie State where students learn hands-on techniques and prepare for careers creating digital content for websites, social media, and mobile applications.
As an Apple educator, Richardson will be able to access free Apple products, such as film and editing software and equipment to expand the mobile journalism lab and enable students to create video and audio podcasts in their journalism classes. She will also join a network of educators who can provide feedback on her work. In addition, Richardson will be deployed at times by Apple to locations around the world to assist with strategic technology projects as an official trainer and implementer of Apple products.
The Apple Distinguished Educators will showcase their projects and participate in a weeklong professional development workshop at the Apple campus in Austin, Texas in July. They will also preview new Apple products and collaborate with other members of the cohort to develop new instructional uses for the technology.
Richardson's classroom innovation was recognized in 2012 when the National Association of Black Journalists named her "Educator of the Year." That year, she created a traveling iPod workshop series for Slavery by Another Name, a PBS documentary film that aired nationally. With this project, she taught educators around the country how to use the iPod to make multimedia slideshows based on the film. Through her summer mobile journalism academy, Richardson has also empowered youth in about a dozen cities in Africa to tell stories using mobile devices.
###
ABOUT BOWIE STATE UNIVERSITY
Bowie State University (BSU) is an important higher education access portal for qualified persons from diverse academic and socioeconomic backgrounds, seeking a high-quality and affordable public comprehensive university. The University places special emphasis on the science, technology, teacher education, business, and nursing disciplines within the context of a liberal arts education. For more information about BSU, visit the website atwww.bowiestate.edu.