BSU Computer Science Professor Wins University System of Maryland Faculty Award
April 4, 2018
Dr. Sharad Sharma is a Prolific Researcher & Director of Bowie State's Virtual Reality Lab


MEDIA CONTACT: Damita Chambers, dchambers@bowiestate.edu, 301-832-2628 mobile

(BOWIE, Md.) – A Bowie State University computer science professor is being recognized among outstanding University System of Maryland faculty for excellence in scholarship, research or creative activity.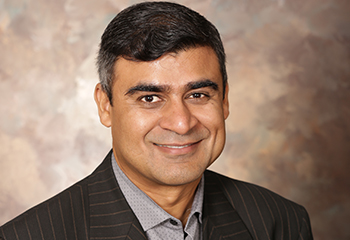 Associate Professor of Computer Science Sharad Sharma is a prolific researcher who has published 31 journal and peer-reviewed conference papers since 2014, which goes well beyond what is expected. He is a known asset to the scientific community and has made significant contributions to the field of virtual reality, especially through his research on the simulation of emergency evacuation scenarios. He has also spearheaded numerous areas of important research in software engineering, virtual reality, and multi-agent systems.

As director of Bowie State University's Virtual Reality Laboratory, he introduces students to virtual reality hardware and software, as well as provides opportunities for them to apply their knowledge. Since 2014, he has secured four major grants as the principal investigator, which he uses to mentor and advise a number of undergraduate, master's and doctoral students to work as research assistants. Dr. Sharma and his students have developed a mobile augmented reality application for emergency response during evacuation, which provides a visual representation of a building in 3D space and enables people to see where exits are in the building.

"Dr. Sharma's impressive body of scholarship is a superior example of achievement in research," said President Aminta H. Breaux. "He cares about striving for excellence in research not only for himself, but also for students."
Under his guidance, students have made 27 poster and oral presentations since 2014 at research conferences, such as the Emerging Researchers National Conference in STEM, hosted by American Association for the Advancement of Science, Education and Human Resources, and the National Science Foundation.

The exceptional quality of Dr. Sharma's scholarship has been recognized by his peers. He has been an invited speaker at many research and scholarly events, including the Science Technology & Innovation Exchange (STIx) event, organized by the Department of Defense Basic Research Office. Last year, he was program chair for the 26th International Conference on Software Engineering and Data Engineering, and he will continue as program chair this year.


###
About Bowie State University
Bowie State University (BSU) is an important higher education access portal for qualified persons from diverse academic and socioeconomic backgrounds, seeking a high-quality and affordable public comprehensive university. The university places special emphasis on the science, technology, cybersecurity, teacher education, business, and nursing disciplines within the context of a liberal arts education. For more information about BSU, visit www.bowiestate.edu.