BSU Students Design Impactful Art with 'Revolutionary Artist'
October 25, 2017
Former Black Panther Artist Emory Douglas Inspired Students with His Story

MEDIA CONTACT: Damita Chambers, dchambers@bowiestate.edu, 301-832-2628 mobile

(BOWIE, Md.) – Emory Douglas, known as the "revolutionary artist" for the Black Panther Party, spent Saturday afternoon sharing his experience to inspire Bowie State University students to design artwork that addresses social justice issues, using limited resources.
During the zine making workshop, seven students and a recent graduate created their own forms of self-expression that addressed social justice themes, like gun violence, feminism, equality, and discrimination.

When Douglas was publishing the Black Panther Party newspaper as the minister of culture, he developed a cut-and-paste style of art direction, which resulted in original, unconventional layouts. From 1967 until the 1980s when the group disbanded, Douglas used his talents to create designs for the most famous black power organization, led by Huey Newton and Bobby Seale.
"It was very DIY [do it yourself]," said Jennifer White-Johnson, an assistant professor of visual communication and digital media arts (VCDMA) and coordinator of the zine making master class with Douglas. "I knew that I wanted the workshop to be fun and interactive and reminiscent of the style in which [Douglas] created the Black Panther newspaper."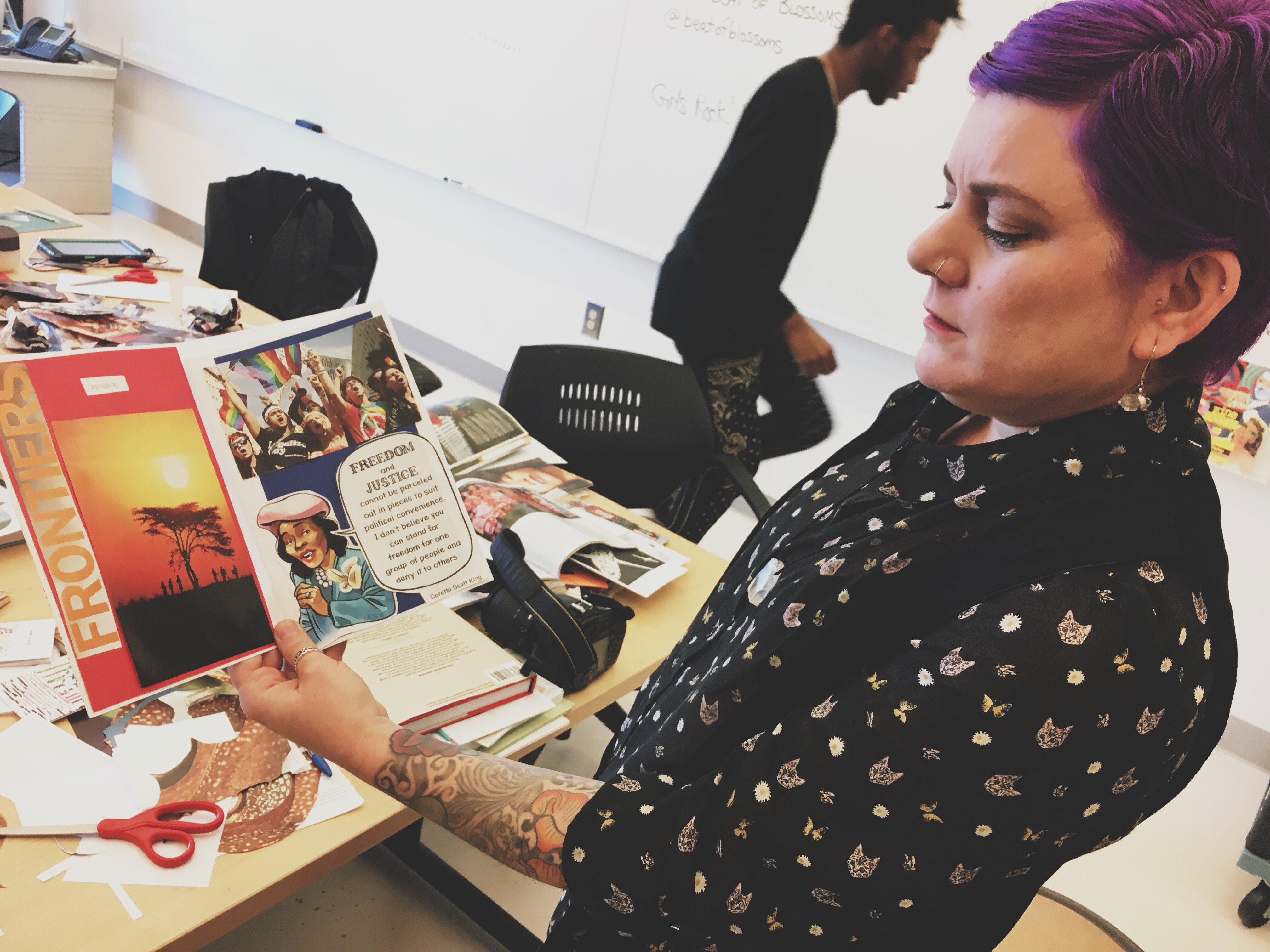 Independent book and zine artist Jamila Zahra Felton led an instructional workshop for the participants to illustrate the significance of zines as a means to promote a culture of revolution. Douglas provided his perspective and insights for the content themes. Chris Metzger, an art and design professor from Stevenson University, also assisted the participants in creating their designs.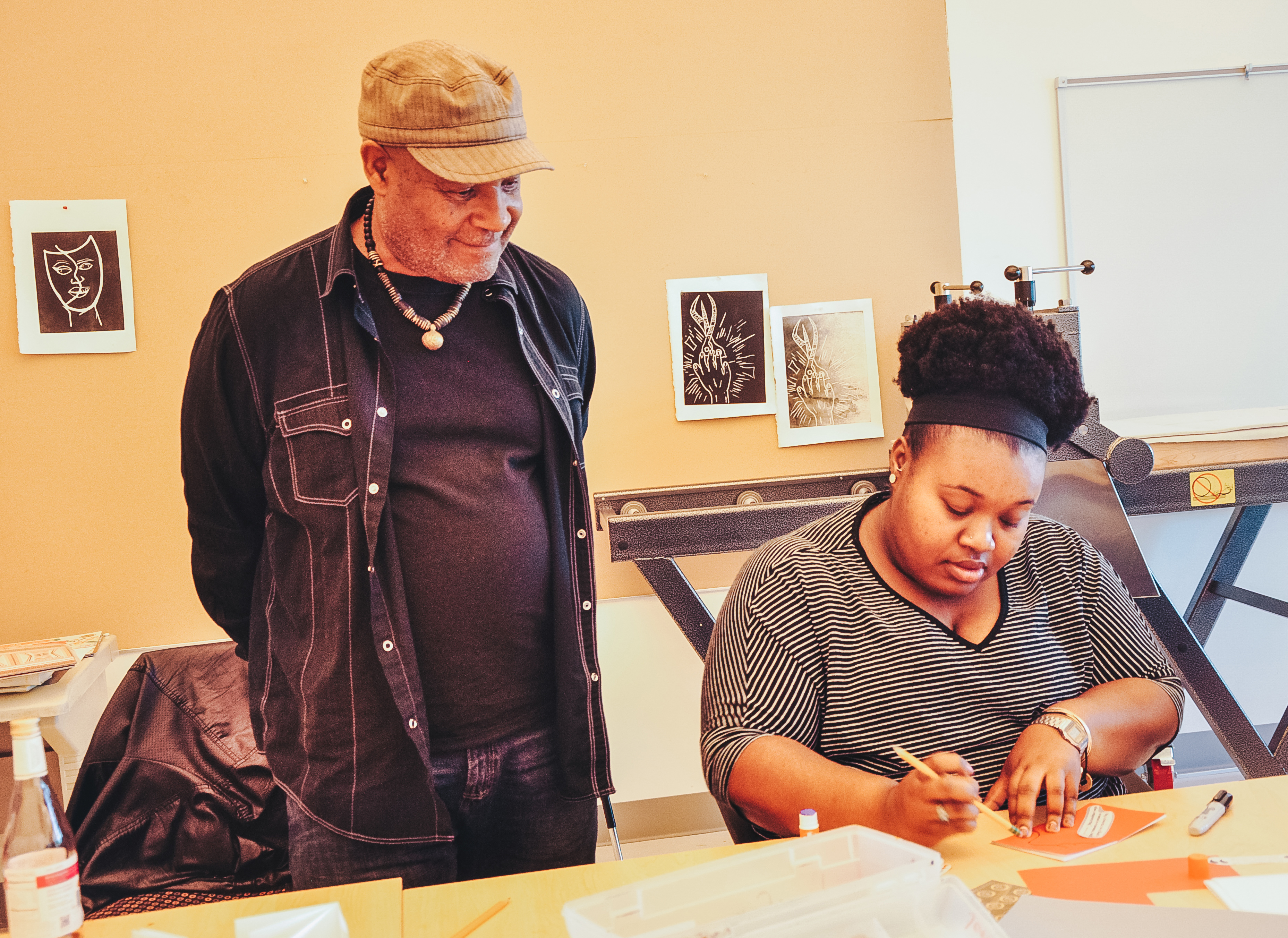 The participants were: senior communications major Gabrianna Ayana Charles, senior VCDMA major Veera Pfaffli, sophomore VCDMA major Shellie Cruz, junior VCDMA major Mark Houston, senior VCDMA major Kelisha Perry and freshman VCDMA major Menelik Melchishua, as well as alumna Shannon Jones ('17).

Douglas also spoke in a public talk at Bowie State on Friday evening, as part of DC Design Week. That event was sponsored by the BSU student chapter of AIGA, AIGA DC and AIGA Baltimore, local affiliates of the oldest and largest design professional organization.
###
About Bowie State University
Bowie State University (BSU) is an important higher education access portal for qualified persons from diverse academic and socioeconomic backgrounds, seeking a high-quality and affordable public comprehensive university. The university places special emphasis on the science, technology, cybersecurity, teacher education, business, and nursing disciplines within the context of a liberal arts education. For more information about BSU, visit www.bowiestate.edu.