BSU to Build Simulator for Cybersecurity Education, with $400k Grant
August 10, 2017
National Science Foundation Funding to Improve How Students Learn Cybersecurity Skills

MEDIA CONTACT: Damita Chambers, dchambers@bowiestate.edu, 301-832-2628 mobile

(BOWIE, Md.) – A Bowie State University research team is developing an interactive cybersecurity simulator to teach minority students how to combat real-world threats, as they train to fill critical gaps in the nation's cybersecurity workforce. A three-year, $400,000 National Science Foundation grant is funding the project.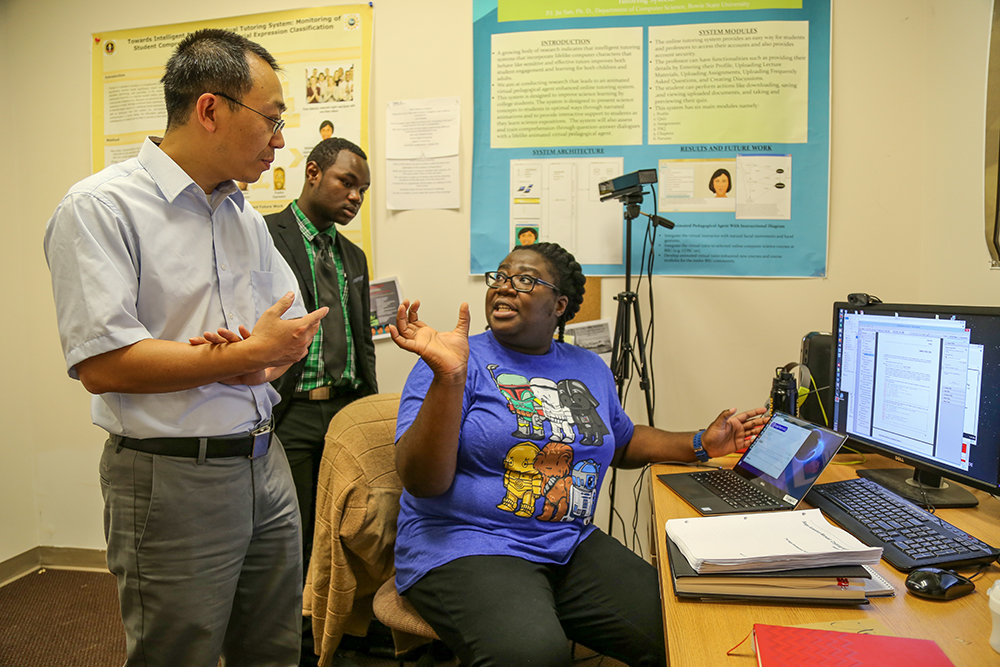 Dr. Weifeng Xu, BSU associate professor
and software security expert, leads a
research team of faculty and students,
Ayodele Hammed-Shobayo (left) and Ruth
Agada (right).
Software security expert Dr. Weifeng Xu is leading a team of faculty and students that will build a web-based simulator that brings to life several cybersecurity challenges. The design work began this summer. The researchers are Dr. Xu, animation expert Dr. Jie Yan, quantum computation expert Dr. Chaobin Liu, along with recent computer science doctoral graduate Ruth Agada and senior computer science major Ayodele Hammed-Shobayo.

Once complete in three years, the simulator will be an important tool for educators at Bowie State, other historically black colleges and universities (HBCUs), and local high schools to use in their teaching. He also plans to host two professional development workshops at Bowie State to teach cybersecurity educators how to infuse interactive teaching into their curriculum.

"The project will increase the overall number of African-American undergraduates in cybersecurity, as well as science, technology, engineering and mathematics education," he said. "It also represents a powerful recruiting tool to attract more African-American undergraduates to study cybersecurity at Bowie State and other HBCUs to grow the cybersecurity workforce that the nation needs."

Because it will be web-based, Dr. Xu said the simulator will provide increased virtual access to cybersecurity education, potentially attracting diverse high school and college students to the field. "Students will be able to interact with the simulator, using real-world stories. They will be able to access it anytime, anywhere," he said.

Development of the new teaching tool will continue to enhance Bowie State's already strong cybersecurity programs, which are recognized as models of excellence by the National Security Agency and the Department of Homeland Security.

Making Complex Concepts Easier to Understand

The project goal is to help educators teach the foundation of cybersecurity education known as cryptography, or the study of encryption and description used in secure electronic communication, like email. Driven by the complex mathematical concepts associated with number theory, cryptography is used to develop key algorithms that professionals use in cybersecurity.

Dr. Xu has found that students often struggle to grasp number theory because it is abstract and hard to visualize. Few, if any, publicly available educational resources exist that help students connect the theory to the real-world application of it, so Dr. Xu decided that he would create his own.

"It's kind of boring to learn the theory without the context to apply it. The students learn the methods, but they don't know when they should use these particular algorithms to encrypt or decrypt the message," he said. "So the challenge is to develop instructional material for teaching it."

With about 10 years of experience in software engineering, Dr. Xu knows what industry employers expect from cybersecurity professionals. He said the demand for well-trained cybersecurity professionals calls for new ways to make complex cryptography concepts easier to understand.

"With encryption and description, it's all about the math," he said. "We're trying to make the math interesting, so that students can visualize it."
###

About Bowie State University
Bowie State University (BSU) is an important higher education access portal for qualified persons from diverse academic and socioeconomic backgrounds, seeking a high-quality and affordable public comprehensive university. The university places special emphasis on the science, technology, teacher education, business, and nursing disciplines within the context of a liberal arts education. For more information about BSU, visit www.bowiestate.edu.