Wall Street Journal/Times Higher Education Ranks BSU Among Top U.S. Schools
September 27, 2017
Bowie State Nationally Recognized for Campus Diversity

MEDIA CONTACT: Damita Chambers, dchambers@bowiestate.edu, 301-832-2628 mobile

(BOWIE, Md.) — Bowie State University continues to appear on national rankings as an outstanding institution of higher education – for the second year in a row, the Wall Street Journal/Times Higher Education has ranked Bowie State among the nation's top colleges and universities.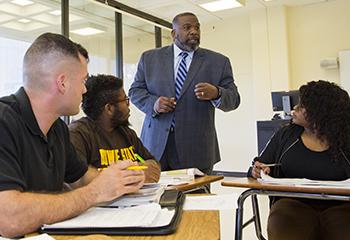 Bowie State is among 21 Maryland colleges and universities included in the ranking. The university ranked highest on the campus environment category, which relates to student and faculty diversity, proportion of international students and student inclusion.

The ranking of 1,054 colleges and universities is based on 14 indicators that include student outcomes, school's resources, how well the schools engage students and the learning environment. The ranking takes a slightly different approach than other national college rankings by placing more weight on students' success after they graduate and the opinions of students about the quality of their education they are receiving.
Overall, the WSJ/THE list is designed to focus on areas that often matter most to students and their families: Does the school have enough effective resources to teach students properly? What type of campus community is there? Are students engaged and challenged by faculty and their classmates? How likely are students to graduate, pay off their loans and get a good job?

It includes the results of a survey of 100,000 college students, which focuses on the student experience that range from how much they collaborated on projects to if they were pushed to think critically to whether they would recommend their school to others.
###

About Bowie State University
Bowie State University (BSU) is an important higher education access portal for qualified persons from diverse academic and socioeconomic backgrounds, seeking a high-quality and affordable public comprehensive university. The university places special emphasis on the science, technology, cybersecurity, teacher education, business, and nursing disciplines within the context of a liberal arts education. For more information about BSU, visit www.bowiestate.edu.