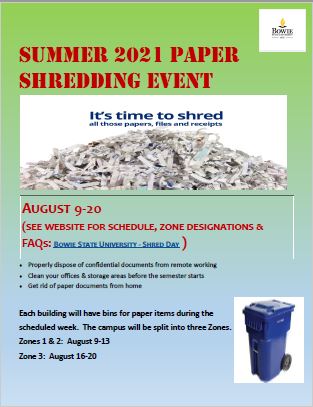 Stay tuned for our next campus-wide shredding event. See below for our last event in August 2021.
This year, we will offer a full 2 weeks before the official semester starts for campus members to dispose of paper material from BSU or home offices & storage areas within their respective buildings. We will designate 3 zones on campus. All buildings will fall into one of the three zones. Everyone will have ONE week to utilize the bins in their own building.
See information below for your building's designated zone and amount of bins per building.
Zones 1 & 2 will have the week of August 9-12 (M-Th) to use the bins. Friday is pick up day.
Zone 1
Student Center
Library
Facilities Management
Robinson
Zone 2
Henry
FPAC
Computer Science
Zone 3 will have the week of August 16-19 (M-Th) to use the bins. Friday is pick up day.
Zone 3
CNSMN
JE Proctor
MLK
McKeldin
CBGS
James Gym


The paper collected is shredded and later manufactured into recycled paper. Please see FAQs link for more information. If your question is not listed here, you may contact the Sustainability & Energy Coordinator, Jabari Walker at jswalker@bowiestate.edu
Designated Bin Managers
Each building has a representative in charge of bin distribution and monitoring called a designated bin manager (DBM). These volunteers were kind enough to assist with the shred bins for your building and are available during your shred week. Please contact that person for any general questions. See chart below. Note: Buildings without a DBM will have one assigned before the event.
Student Center - Dawnita Smith
Library - Angela Morton/ Roy Joynes
Facilities Management - Dr. Jacqueline Jackson-Palmer
Robinson - Edna Palmer and Vernell Lawson
Henry Admin - Marsha Swindell
Fine & Performing Arts (FPAC) - Dania Taylor
Computer Science - Mary Rodriguez
CNMSMN - Dr. Alan Anderson
JE Proctor- Vonzella McQueen
MLK - Otis Thomas
Ctr for Business & Grad Studies (CBGS) - Deborah Adams
McKeldin - Lavel Jones
James Gym - Arlene Creek