Quick Facts
Tuition & Fees
2018-2019 Academic Year
Undergraduate

In-state – $8,234
Out-of-state – $18,874
Graduate

In-state – $

12,750

Out-of-state – $

19,638
Enrollment
Fall 2018
6,320 Total
5,308 Undergraduate students
898 First-time, full-time freshmen
1,012 Graduate students
Academic Offerings
22 Undergraduate majors
19 Master's programs
14 Certificate programs
2 Doctoral programs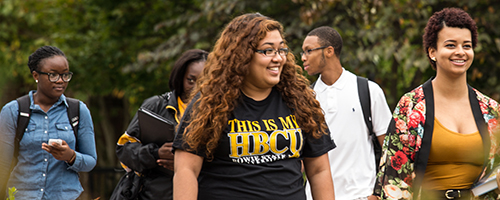 Bowie State University Points of Pride

A top 30 historically black university (U.S. News & World Report)
#1 for value among Maryland's four-year colleges and universities (The Economist)
A top 100 producer of minority degrees (Diverse: Issues in Higher Education)
One of Maryland's best four-year colleges or universities (Wall Street Journal/Times Higher Education U.S. College Ranking and BestColleges.com)
First-Class Learning Opportunities
The state-of-the-art Center for Natural Sciences, Mathematics and Nursing includes flexible classrooms and lab space for cutting-edge research.
Bowie State's cybersecurity programs are recognized by the National Security Agency and the Department of Homeland Security as models of excellence.
The College of Education leveraged grants from the U.S. Department of Education to develop and implement two new programs that train special educators to work with children from diverse backgrounds with disabilities and special needs.
The Fine and Performing Arts Center regularly welcomes the public to world-class shows and concerts in performance spaces that rival professional theaters.
Criminal justice students, using the latest equipment in our forensic laboratory, develop expertise to become next-generation crime scene investigators.