Communications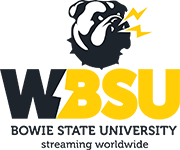 Listen to WBSU Bulldog Radio live online.
MISSION
The Department of Communications' mission is to educate, mentor, and prepare students of diverse cultural backgrounds for successful careers in traditional and new media fields, including broadcast journalism, public relations, print journalism, emerging media and graduate studies in organizational communications. We enhance students' analytical and critical thinking skills; leadership abilities, and oral and written communications skills that are mandatory in order to meet the challenges of a global society.
The Department of Communications draws upon the rich history of Historically Black Colleges and Universities to foster minority contributions in professional communications. The Department extends its mission to the entire student population through its oral communications and public speaking courses as part of Bowie State University's general education requirements.
Bowie State University is strategically positioned in the Washington-Baltimore corridor, which allows the Department to draw upon a rich resource of professional and academic expertise. We engage students by providing opportunities for them to achieve the highest level of excellence in professional communications.
FACULTY
The Department of Communications' faculty is a unique blend of scholars and veteran professionals whose combined talents in research, radio, television and print journalism, and public relations provide nearly 500 communications majors with a quality education that balances the theoretical and practical aspects of communications.
FOUR AREAS OF STUDY
Students pursuing an undergraduate degree may focus their study in one of four concentrations: Broadcast Journalism, Emerging Media, Print Journalism or Public Relations. Graduate students pursue advanced study in Organizational Communication.
HANDS-ON TRAINING
Students receive hands-on training through BSU-TV, WBSU Radio, The Spectrum newspaper, The Spectrum Online website and the campus chapter of the Public Relations Student Society of America (PRSSA). Undergraduate students receive hands-on, pre-professional experience in reporting, writing, editing, photography, videography, video editing, audio recording, voicing, announcing, graphics, online journalism, op-ed writing, blogs among other communications skills. Also, students learn leadership and management skills as officers of the Public Relations Student Society of America, Lambda Pi Eta, WBSU radio and The Spectrum Online. In these roles, they are responsible for planning, executing, monitoring and evaluating a host of projects, events and publications
DEPARTMENT OF COMMUNICATIONS CHANNEL COMING SOON