Jayne Cubbage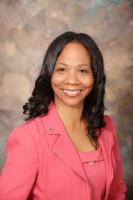 Dr. Jayne Cubbage is an Assistant Professor in the Department of Communications at Bowie State University where she teaches courses in the Graduate Program in Organizational Communication. She has previously taught graduate and undergraduate level courses in broadcast journalism and mass communication courses including media literacy, broadcast news writing, mass communication theory and television production. Her research interests include media audiences of color, media literacy and social networking. She is working on the upcoming edited volume "Media Literacy in Higher Education Environments" to be published by IGI Global in 2018.
Academic Publications
Cubbage, J. (2017). Access Denied: Ending the exclusion of disabled students from media production courses and programs in higher education. The Journal of Media Literacy Education Special Issue: Media Literacy and Disabilities, 9(2), 114-121. DOI: https://doi.org/https://doi.org/10.23860/JMLE-2019-09-02-09
Algood, C., Crosby, S., Sayles, B., & J. Cubbage, (2017). An ecological examination of factors that impact well-being among juveniles with developmental disabilities in the juvenile justice system. Juvenile and Family Court Journal, 68(2).
Cubbage, J., Gillians, P., Algood, C., & Ramsey, V.S. (2016). Implementing media literacy training for social work programs at HBCUs: A literary analysis of barriers and opportunities. Journal of Social Work Education, Special Edition.
Cubbage, J. (2016). Establishing a Media Literacy Cognate at Historically Black Colleges and Universities; a Comparative Analysis of Existing Courses and Potential for Implementation. In Prince, C.B.W., & R. Ford, (Eds.), Administrative Challenges and Organizational Leadership in HBCUs. Hershey, PA: IGI Global.
Cubbage, J. (2013). Social Media Use for the African-American Community. In K. Langmia, T. Tyree, P. O'Brien, & I. Sturgis, (Eds.), Social Media: Pedagogy and Practice. Lanham, MD: The University Press of America.