DFPA News
Shaolin Jazz Project lecture series

A special Black History Month presentation of The SHAOLIN JAZZ project and lecture series 2/25/16 VCDMA , Bowie State University. 6-7 PM. Recital Hall, Fine and Performing Arts Center (FPAC). FREE!!
Visual Communication & Digital Media Arts (VCDMA) of the Department of Fine and Performing Arts presents The Shaolin Jazz Project lecture series. The aim of the lecture series is to explore the cultural and musical parallels and connections that exist between Jazz and Hip-Hop in an informative, yet entertaining way using music, art and discussion. This includes a multimedia presentation incorporating music samples, video clips, historical and contemporary images, and a range of other thought provoking content. This will kick off the launch of an exciting, new minor in Hip-Hop Studies and Visual Culture in VCDMA at BSU coming Fall 2016.
Tickets are free. RSVP:
http://www.eventbrite.com/e/vcdma-presents-the-shaolin-jazz-project-lecture-series-at-bowie-state-university-tickets-21737108276
@SHAOLIN_JAZZ37 | @vcdma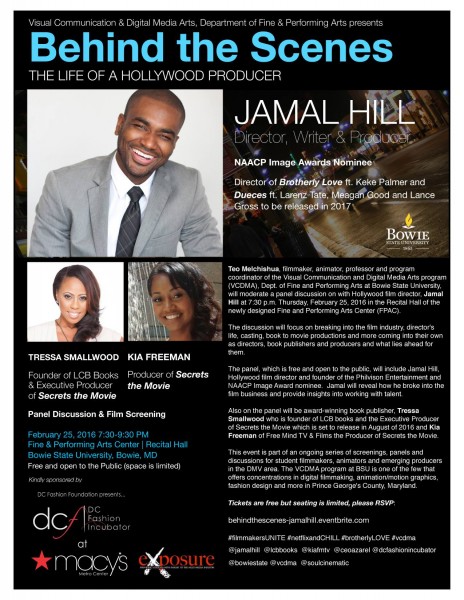 Behind the Scenes: The Life of a Hollywood Producer

Teo Melchishua, filmmaker, animator, professor and program coordinator of the Visual Communication and Digital Media Arts program (VCDMA), Dept. of Fine and Performing Arts at Bowie State University, will moderate a panel discussion on with Hollywood film director, Jamal Hill at 7:30 p.m. Thursday, February 25, in the Recital Hall of the newly designed Fine and Performing Arts Center (FPAC).
Jamal Hill is an NAACP Image Award nominated director, writer and producer. He has directed films "Brotherly Love" starring Keke Palmer and "Deuces" starring Meagan Good, Larenz Tate and Lance Gross and will be released in 2017. He has worked with Queen Latifah's Flavor Unit production company among other Hollywood film.

Watch the trailer for "Brotherly Love" (available on Netflex)

The discussion will focus on breaking into the film industry, director's life, casting, book to movie productions and more coming into their own as directors, book publishers and producers and what lies ahead for them. The panel, which is free and open to the public, will include Jamal Hill, Hollywood film director and founder of the Philvison Entertainment and NAACP Image Award nominee. Jamal will reveal how he broke into the film business and provide insights into working with talent.

Also on the panel will be Award Winning book publisher, Tressa Smallwood who is founder of LCB books and the Executive Producer of Secrets the Movie which is set to release in August of 2016 and Kia Freeman of Free Mind TV & Films the Producer of Secrets the Movie.

Tickets are FREE.

#filmmakersUNITE #netflixandCHILL #brotherlyLOVE @jamalhill @JamalHill_4real @lcbbooks @kiafmtv @ceoazarel @soulcinematic @vcdma

And You Don't Stop: New Minor in Hip-Hop Studies & Visual Culture


Just Announced! Hip-Hop and Visual Culture minor, Visual Communication & Digital Media Arts (VCDMA).

Starting in Fall 2016, the Department of Fine and Performing Arts, College of Arts & Sciences through the Visual Communication & Digital Media Arts (VCDMA) program will offer an interdisciplinary minor in Hip-Hop Studies and Visual Culture (HHVC).

It is open to all students and encourages innovative scholarship, creative projects and collaborative research across the disciplines of the arts and humanities, media, history, language and more. The first of its kind at an HBCU and USM institution, this exciting, new minor provides an opportunity for students, scholars, artists and pioneers in the hip-hop communities to converge on Bowie State University's campus in the exploration of this cultural phenomenon. For more info please contact Prof. Melchishua (301) 860-3731 tmelchishua@bowiestate.edu

Follow us on twitter: @vcdma and Facebook: https://www.facebook.com/VCDMAempowers