Elena Velasco, MFA
Areas of Specialization - Acting, Directing, Movement, Theatre for Social Justice, Physical Theatre, Puppetry and Youth Theatre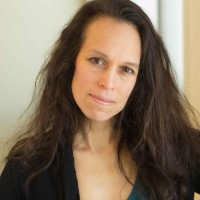 Elena​ ​Velasco​ is​ ​a​ ​theatre​ ​artist​ ​whose​ ​work​ ​encompasses​ ​many​ ​aspects​ ​of performance,​ ​production,​ ​activism​ ​and​ ​education.​ ​She​ ​firmly​ ​believes​ ​that​ ​through​ ​a redefined​ ​actor-audience​ ​relationship​ ​and​ ​a​ ​"multilingual"​ ​approach​ ​to performance,​ ​theatre​ ​can​ ​be​ ​the​ ​catalyst​ ​for​ ​change​ ​in​ ​society​ ​and​ ​identifying intersections​ ​in​ ​humanity.​ ​During​ ​her​ ​25​ ​year​ ​career​ ​she​ ​has​ ​devoted​ ​her​ ​time equally​ ​between​ ​performance​ ​and​ ​residency​ ​work.​ ​She​ ​has​ ​taught​ ​theatre​ ​through the​ ​lens​ ​of​ ​community​ ​engagement​ ​and​ ​education​ ​throughout​ ​the​ ​DC​ ​metro​ ​area, with​ ​a​ ​focus​ ​on​ ​Title​ ​1,​ ​immigrant​ ​and​ ​"invisible"​ ​populations.
​She​ ​is​ ​the​ ​Artistic Director​ ​and​ ​Co-founder​ ​of​ ​Convergence​ ​Theatre,​ ​a​ ​multidisciplinary​ ​performance collective​ ​that​ ​creates​ ​work​ ​centered​ ​on​ ​social​ ​justice.​ ​Ms.​ ​Velasco​ ​is​ ​the​ ​director​ ​and​ ​resident​ ​teaching​ ​artist​ ​for​ ​Óyeme,​ ​a​ ​theatre​ ​arts​ ​haven​ ​for unaccompanied​ ​minors,​ ​and​ ​immigration​ ​advocacy​ ​professional​ ​performance company.​ ​Her​ ​directing​ ​and​ ​choreography​ ​credits​ ​include​ ​Convergence​ ​Theatre, Synetic​ ​Family​ ​Theater,​ ​Mead​ ​Theatre​ ​Lab,​ ​Source​ ​Theatre,​ ​Imagination​ ​Stage, Young​ ​Playwrights'​ ​Theater,​ ​Capital​ ​Fringe,​ ​Discovery​ ​Theater​ ​and​ ​Catholic University.​ ​She​ ​has​ ​also​ ​choreographed​ ​for​ ​Avant​ ​Bard,​ ​Theatre​ ​J,​ ​Keegan​ ​Theatre and​ ​Catholic​ ​University.​ ​Ms.​ ​Velasco​ ​is​ ​a​ ​member​ ​of​ ​SAG,​ ​AFTRA,​ ​and​ ​AEA​ ​and​ ​has performed​ ​at​ ​the​ ​Kennedy​ ​Center,​ ​Theatre​ ​Alliance,​ ​Discovery​ ​Theatre,​ ​Imagination Stage,​ ​Signature​ ​Theatre​ ​STAGES,​ ​and​ ​in​ ​several​ ​films,​ ​commercials,​ ​and​ ​TV​ ​shows. She​ ​currently​ ​serves​ ​as​ ​the​ ​Co-Director​ ​of​ ​Multiculturalism​ ​and​ ​Diversity​ ​for​ ​the American​ ​Alliance​ ​of​ ​Theatre​ ​and​ ​Education.
Awards:​ ​Anacostia​ ​Arts​ ​Center​ ​Residency​ ​2017-2018​ ​and​ ​ARCH​ ​Development grant;​ ​Southeastern​ ​Theatre​ ​Conference​ ​Tom​ ​Behm​ ​Professional​ ​Development Scholarship​ ​2017;​ ​Graduate Assistantship,​ ​Catholic​ ​University,​ ​2012-2015.
Publication: "The​ ​Bilingual​ ​Classroom:​ ​Teaching​ ​through​ ​Verbal​ ​and​ ​Physical Language."​ Arts Integration in Education: Teachers and Teaching Artists as Agents of Change;​ ​ed.​ ​Dr.​ ​Gail​ ​Humphries​ ​Mardirosian​ ​and​ ​Yvonee​ ​Pelletier​ ​Lewis.
Conferences​ ​Presentations:​ ​American​ ​Alliance​ ​for​ ​Theatre​ ​and​ ​Education​ ​2016​ ​and 2017;​ ​Theatre​ ​Communications​ ​Group​ ​2016;​ ​Theatre​ ​in​ ​Our​ ​Schools,​ ​2015​ ​and 2016.
Education​:​ ​MFA​ ​in​ ​Directing​ ​and​ ​Bachelor​ ​of​ ​Arts​ ​in​ ​Drama​ ​(Magna​ ​Cum​ ​Laude), Catholic​ ​University​ ​of​ ​America.
To see her work: www.elenavelasco.net and www.convergencetheatre.org