Ms. Rose Harper
College of Education Advisory Board Member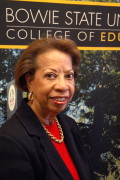 Rose Harper is an entrepreneur, philanthropist, lecturer, adjunct professor, author, global events planner, contributing writer to golf publications, subject matter expert (SME) in the business of the golf industry, and passionate golfer. The recipient of countless awards for her lifetime achievements in the field of sports development, and business, she has established herself as an internationally renowned consultant in sports and special events management to U.S. presidents, royalty, heads of state, ambassadors, celebrities and fortune 500 CEOs.
Her contributions to golf include the founding of the PGA Tour Wives Association, initiating the Golf Digest Minority Golf Summit, reformatting the PGA player credentials, establishing a minority joint venture golf course design team (Rose Harper, Gary Player & Arnold Palmer) to provide a golf feasibility study for the Nation's Capital, being the first person of color to operate and manage a full concession 18 hole golf complex for the U.S. Department of Agriculture, organizing the first multi-racial sporting event in the history of South Africa, being certified by the PGA of America as a Player Manager and being a U.S. Delegate to the Seoul Olympics.
One of the most important visionary women in the world of golf, Rose Harper has parlayed 30 years of exposure and experience in the sports management and special events industry, and has provided leadership training to build a successful business that adds value to other professionals. Additionally, she served on the D.C. Baseball Commission and developed a documentary on the history of African Americans in Golf. She has served on many boards and commissions and has chaired the 2.5 billion dollars D.C. Retirement Board.
Ms. Harper founded The Grass Ceiling, Inc. in 1995, as a business empowerment firm that specializes in using the game of golf as a platform to help level the playing-field for women and minorities with their counterparts in the business and academic worlds. The game of golf provides a neutral zone to promote effective communication and positive bonding between professional.
She has served as an Adjunct Professor in the School of Business at Howard University, received Executive certificates in the following areas; The Emerging Trustee Congress, New Orleans; Institute for Fiduciary Education, Yale University; Finance, Wharton School of Business, University of Pennsylvania; National Conference on Banking; International Protocol Association and Business Administration, Howard University.
Among her most recent awards, she received The Founders Plaque ( 2006) from the (PGA) Professional Golfers Association of America in recognition of her commitment to excellence and elevating the game of golf by establishing The National Minority College Golf Championship, and( 2009) was inducted into the Washington, DC Hall of Fame Society receiving their Sports Legacy Award.