Alan Anderson
Associate Professor of Chemistry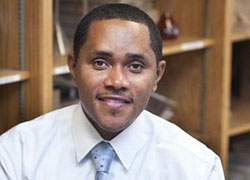 Dr. Anderson is Chair of the Department of Natural Sciences and Associate Professor of Chemistry at Bowie State University. He completed undergraduate studies at North Carolina A&T State University and earned his PhD in Organic Chemistry from Howard University. He furthered his studies as a three-year postdoctoral researcher at Harvard University in the laboratories of Professor Andrew G. Myers.
At Bowie, he also has developed an outstanding research laboratory program working primarily with undergraduate students centered on the synthesis of novel medical compounds and nano-materials, funded in part by several NSF and DOD grants. He also has demonstrated excellence in teaching and has received several accolades for his work at Bowie such as 2010 Most Outstanding Young Faculty and 2014 Researcher of the Year awards.
Alan Anderson is Past-President of the Chemical Society of Washington, the local ACS Section for the Washington, DC area and serves approximately 4,000 members. Following his term as President, Dr. Anderson was recently elected to a three-year term as an ACS Councilor, representing chemists in the Washington Metro Area, in the Governing body of the American Chemical Society (158,000-member organization) representing chemists in the Washington Metro Area.