Anne Osano
Associate Professor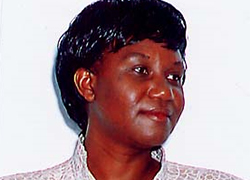 Plant Biology And Plant Metabolomic Laboratory
Collaboration with United State Department of Agriculture, Agricultural Research Service, Food Composition and Methods Laboratory.
Metabolomic Lab Research Goal
The use of metabolomic approaches to study plant metabolites for human health
The main goal of metabolomics is to study all the metabolites in a system. The plant metabolites play an important role in the interaction of plants with their biotic and abiotic environment and function as attractors for pollinators or seed dispersers: defensive compounds or toxins that guard against pathogens and herbivores and protect plants. Most of the approved new drugs are reported to have been obtained from natural plant products. Moreover, a majority of the world's population relies on medicinal plants for its primary pharmaceutical care.
Approaches
Metabolomics approaches use technologies which enables us to analyses the metabolite profiles by plants
Elicitation approaches to enhance metabolites of interest



Metabolomic projects



Metabolomics approaches for the analysis of tropical medicinal plants (e.g., high performance thin layer chromatography (HPTLC)). Fingerprinting of tropical medicinal plants Azadirachta indica and Melia azedarach plants. Funded by NSF.
Metabolomic approaches for studies of phenolic compounds of tropical indigenous food crops- collaboration with USDA.
Elicitation approaches for production of super crops (e.g., elicitation of carotene levels in carrots and lycopene in tomatoes towards the production of super crops (NSF)). This research is infused into plant biology curriculum.

Plant biology projects



Astrobiology: analysis of photosynthetic activity of cyanobacteria inhabiting halite evaporates of the Atacama Desert, Chile (NASA) (Real time analysis of photosynthesis).
Hydroponics: smart agriculture; Infusing hydroponics into plant science for production of super crops without the scare of traditional agriculture. This is a collaboration with Dr. George Ude, Chair of Natural Sciences, George Acquaah, Dean of the College and Arts and Sciences and ENVISTA FARM.

International/ Global Undergraduate Research Experience: NSF funded. Bowie State University Global Experience in Research for Undergraduates in Food Security in Kenya, Africa, (GE REU). Find out more about the Research Experience for Undergraduates.
Outreach: Healthy Eating Heathy Living Initiative:

Annual Food Day Symposium - goal is to encourage PG Community to eat healthy. There have been 8 symposia since its inception in 2011.