Provost and Vice President for Academic Affairs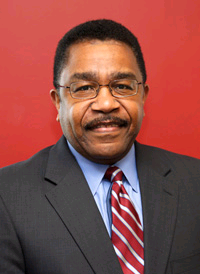 Weldon Jackson currently serves as Provost and Vice President for Academic Affairs at Bowie State University. Prior to his appointment on July 9, 2012, Weldon served as Special Assistant to the President at Morehouse College (January 2012-July 2012). Previously, he served as the Provost and Senior Vice President for Academic Affairs at Morehouse (2010-2011) and Executive Vice President and Provost at Manhattan College in Riverdale, New York (1996-2010), and Vice President for Academic Affairs at Morehouse College (1985-1996). He was born in Greensboro, GA. He attended Corry High School, graduating as class valedictorian. Dr. Jackson holds the Bachelor of Arts degree in Political Science from Morehouse College (summa cum laude and Phi Beta Kappa) and the Ph.D. degree in Government from Harvard University.
Dr. Jackson began his academic career as a faculty member in the Black Studies department at Wellesley College in Wellesley, MA. After his first year, he was asked to serve as department chair, the first time that an untenured faculty member chaired the department. Weldon successfully led the department for two years, during which the department saw an increase in student enrollment and the employment of additional highly qualified faculty.
At Manhattan College, Dr. Jackson had responsibility for the operations of various academic divisions, information technology, academic support, admissions, campus ministries, special sessions, student retention, faculty recruitment, retention, and professional development, graduate programs, continuing education programs, assessment, and strategic planning. One of his most significant accomplishments was facilitating the School Reorganization Plan (organizing the College into five schools). In collaboration with the deans, he revamped the faculty workload (adopting 4/3 and 3/3 workload models) enabling faculty to devote more time to teaching effectiveness, scholarship, and service. Together, they also successfully secured accreditation for the School of Business at Manhattan College by the Association to Advance Collegiate Schools of Business (AACSB) and the School of Education by the Teacher Education Accreditation Council (TEAC), as well as the reaccreditation of all programs for the School of Engineering by ABET (Accreditation Board for Engineering and Technology). As a member of the Strategic Planning Committee, he also managed the accreditation applications and follow-up reports to the Middle States Commission on Higher Education. He implemented a Continuing Education Program/Degree Completion Program; established ASPECT, an International Language Program; and broadened the Summer Advanced Placement Program. In addition, he launched a Continuing Education division and implemented an International Language program that served as a new source of revenue for the college.
In his role as Vice President for Academic Affairs at Morehouse College, Dr. Jackson had a wide range of leadership and academic responsibilities. With a major focus on faculty development and student success, he led a faculty committee that re-designed the tenure and promotion policies and procedures. He complemented this process redesign with a formal faculty development program with generous support from the Mott Foundation, the Hewlett Foundation, the Knight Foundation, and the New York University Faculty Resource Network. One of Dr. Jackson's most significant accomplishments at Morehouse was the establishment of the Center for Academic Success and Enhancement (CASE), where the college centrally located appropriate academic support services, including academic advisement and counseling. He also developed summer academic enrichment programs, designed to immerse students in college preparatory work to enhance their first-year success. During his latter tenure as Provost and Senior Vice President for Academic Affairs at Morehouse, he again focused on faculty recruitment/development and student success by establishing a Center for Faculty Development. He also launched several new academic programs, including Film Studies, and began development of an academic program focusing on ethical leadership with particular reference to Dr. Martin Luther King, Jr. and the Martin Luther King Collection.
The key to his success at both Morehouse and Manhattan was grounded in his complete respect for collaboration and consensus building. He has an abiding faith in the worth of shared governance and collaboration.
Dr. Jackson has affiliations with many organizations, including the American Political Science Association, Council of Independent Colleges and Universities (CICU), the American Council on Education, and Alpha Phi Alpha Fraternity. The most important aspect of Weldon's life outside his professional life is his family-his wife of 28 years (Lorraine), two sons (Victor and Vincent), a daughter (Adrianna), and his church.