Graduate New Student Orientation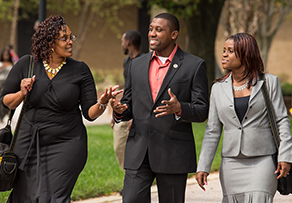 Congratulations again on your acceptance into a master/doctoral program at Bowie State University. We invite you to attend the Graduate New Student Orientation (GNSO) on Monday, January 23, 2017 from 5 - 7 p.m. in the Center for Learning and Technology, room 102 (view campus map). Park for free in Lot O (view campus map). Visit our website for driving directions.
We look forward to meeting you. If you have questions, contact the Graduate School at gradadmissions@bowiestate.edu or 301-860-3406.
Why Come to GNSO?
It is a great opportunity for you to:
Learn about the Graduate School's policies and procedures
Discuss prerequisites
Understand payment options for tuition and fees
Get one-on-one advising
If you cannot attend the orientation, you still need to complete several steps. Here is a guide to help you in that process:
Tuition & Financial Aid
Visit the Office of Financial Aid online for important information and dates.
Apply for financial aid using the Free Application for Federal Student Aid (FAFSA).
Pay your tuition bill.

You can choose to sign up for the Tuition Payment Plan. Make tuition payments on a monthly basis through a tuition payment plan. You may sign up for this payment plan using your Bulldog Connection account.
You can also make payments at the Office of Student Accounts on the first floor of the Henry Administration Building or by phone at 1-877-77-BOWIE or 301-860-3540.
You will receive information about payment deadline dates through your university email account. The Office of Student Accounts will not mail you a bill. You can access your bill through Bulldog Connection.
Registering for Classes
Submit your Entrance Medical History Form (EMH) to the Wellness Center. You will be blocked from registering for classes until you complete this form.

Meet with an academic advisor to develop your program of study and register for your classes through Bulldog Connection. Check your mail for a New Graduate Student Orientation packet with advisement information.
Obtain the Bulldog Card. Once you have paid your tuition bill and have registered for classes, you may get your card at the Bulldog Card Office in the Student Center. The Bulldog Card is your official university identification, library card and access card to university athletic events. Keep it with you at all times.
On-Campus Housing
Parking & Public Transit