New Student Orientation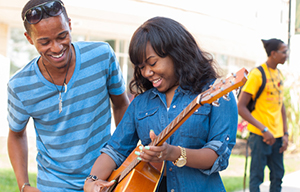 Welcome to Bowie State University (BSU)! Your college career begins when you sign up for New Student Orientation (NSO), a three-part program designed to help you get started at BSU. During NSO, we work to help you get familiar with the campus; test your reading, writing and math skills and help you select your first classes.
In short, this three-part orientation program consists of:
University Testing Services, the first part of your orientation experience. Placement testing is mandatory for all new freshman and transfer students without college-level math and English. For additional information on the placement exam, please see the University Testing Services website.


Academic Advising Center, the second part of your orientation. This office will direct you to advising and help register for classes. For more information, contact Dr. Yvette C. Galloway: 301-860-4072 or AdvisingBSU@bowiestate.edu.

Discover BSU, the third and final part of your orientation is designed to assist you with a smooth transition to college. Freshman students will attend either a one-day orientation session or overnight orientation session, while transfer students attend a one-day session. For more information, contact the office at 301-860-4406 or visit the Discover BSU page.
Freshman Student Orientation
To RSVP for Freshman Orientation please contact:
Mr. Lawrence Webb
lwebb@bowiestate.edu
Transfer Student Orientation
To RSVP for Transfer Orientation please contact:
Ms Yetanda Massey
ymassey@bowiestate.edu