Dante Lee, '02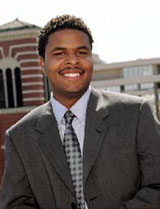 In his twenties, Dante Lee is the president and CEO of Diversity City Media, a successful multicultural marketing and public relations firm based in Columbus, Ohio. The firm produces BlackNews.com, BlackStudents.com, BlackPR.com, and the annual Black Scholarship Guide publication.
His company has annual billings of about $500,000 and works with clients like Verizon, McDonald's, NASCAR, BET, Nike, and Heineken.
Lee graduated from Bowie State University in 2002 with a bachelor's degree in computer science, and completed the four-year program in just three years.
Lee was highlighted in Ebony magazine as one the "Top 30 Young Leaders For 2006." He has also been featured in three issues of Black Enterprise magazine, one of which he was recognized as a nominee for the Black Enterprise "Rising Star" Award.
Lee recently authored a book entitled How To Think Big...When You're Small, which is currently in bookstores.