Teresa Wright, '74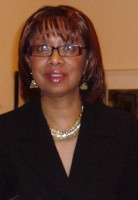 In her journey from creative adolescent to clothing designer, Teresa Denise Wright has attained career-building experiences while developing her creativity. Teresa became fascinated at age 11 with creating clothing after watching her older sister, Joyce, lay out a pattern. She told herself, "I have to learn how to do this," and began her fashion design journey. As a teenager, Wright took home economics courses, participated in fashion shows, and sewed for family, friends, and her very first clients.
Wright was anxious to go to design school after graduation from high school. Her parents, however, wanted her to obtain a college degree in studies that would provide her with an entrée into teaching, government or other fields which provide stable incomes. Teresa decided on a course of study that would give her a solid foundation towards achieving her fashion design goal. She enrolled at Bowie State College as an art education major. Wright found a nurturing environment at Bowie, with professors and instructors who affirmed and encouraged her artistic and personal development. Dr. Amos White, Ms. Helen Evans Ramsaran, Mr. Simmie Knox, Dr. Robert Ward, Dean Stallings, and other faculty members left a lasting impact upon her. She developed a close friendship with a fellow art student, the late Andrew Glenn Martin, and made connections with other students that would result in lifetime friendships and enduring relationships.
After graduating cum laude from Bowie in 1974, Wright was still fascinated by fashion. Teresa matriculated at the Fashion Institute of Technology in New York City, and finally earned her long-awaited associate's degree in applied science.
In 1997, Wright created a clothing line of infant christening and dedication ensembles under the label "Firstfruits Creations—Teresa Wright Designs." Each quality baby garment in the collection features passages of scripture, and is designed to be a family heirloom to be passed down through the generations. Wright is also expanding her label to include women's and children's clothing.
In addition to creating freelance design for her clients, Wright is also a certified event planner. Her liberal arts degree has served her well, and she has been employed in various capacities in several different sectors, including: retail management, elementary education, property management, marketing, satellite communications, with a national commerce organization, and an international Fortune 100 company. She is a member of the International Society of Meeting Planners, the American Sewing Guild, the Women's Business Center, the National Association of Professional Organizers, the Good Steward Investment Club, the Fashion Institute of Technology Alumni Association, and Bowie State University National Alumni Association. She is an active member in youth ministry at New Samaritan Baptist Church, and is also active in community affairs with her Washington, DC, neighborhood association. She has received FEMA Certification as a Community Emergency Response volunteer and Red Cross Certification in Adult CPR/AED and First Aid.