Employers On Campus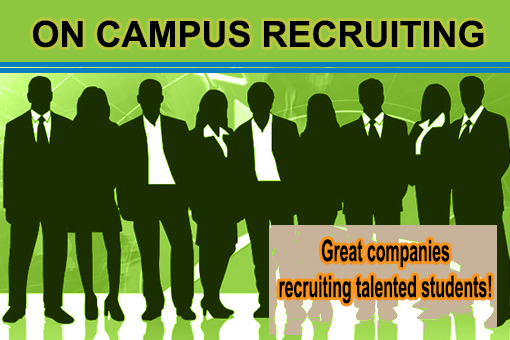 On-campus recruitment (OCR) provides students and alumni with the opportunity to meet with employers to learn about their career opportunities, as well as interview for internships and full-time employment.
See who's coming to recruit on campus. Click on the employer's name to read more details about their visit and company. In order to participate in On Campus Interview events, you must register on Bulldogs4Hire.
February 2, 2017
City Year Information Table
February 7, 2017
Metropolitan Police Department Information Table
February 9, 2017
DRD Pools Information Table
February 14 & 16, 2017
Thompson Creek Information Table
February 15, 2017
U.S. Coast Guard Information Table
February 21, 2017
Primemerica Financials Information Table
February 22, 2017
Maryland State Police Information Table
February 27, 2017
Grant Thornton: On-Campus Interviews

February 27, 2017
Thurgood Marshall College Fund Information Session

February 28, 2017
BB & T Bank On Campus Interviews
March 2 & 8, 2017
Weedman Banyan Tree, LLC. Information Table

March 9, 2017
Bankers Life Information Table
March 14, 2017
Latin American Youth Center Information Table
March 16, 2017
Metropolitan Police Information Table
March 29, 2017
U.S. Coast Guard Information Table
March 30, 2017
Nationwide Insurance Information Table
April 5, 2017
Maryland State Police Information Table
April 26, 2017
2017 Spring Career Fair
---
To view the PDF documents on this page, download the free Adobe Acrobat reader by clicking here.