Winter 2013 Commencement Speaker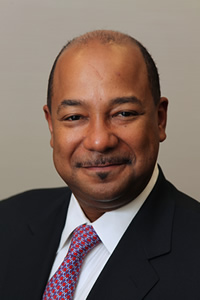 Anthony Lewis
Region Vice President, Government Affairs
Verizon Communications

Anthony Lewis is region vice president of government affairs for Verizon, overseeing the corporation's interests in Delaware, the District of Columbia, Maryland and Virginia.
Mr. Lewis assumed this position in October 2011, and his responsibilities include shaping and advancing Verizon's public policy initiatives for the wireline, wireless and enterprise business segments. He also directs Verizon's philanthropic activities for the region.
Before this position Mr. Lewis served as vice president of wholesale development and operations for Verizon Wireless. He was also responsible for executing the open development initiative, which included directing the pricing, activation, billing, distribution, device specification, testing, communications planning and financial matters for the project.
Mr. Lewis was previously the president of Verizon – Washington, D.C. where he had oversight for all of Verizon's operations, including regulatory and financial matters. Previously Lewis held the title of executive director, business planning. His responsibilities included the coordination and linkage of strategic policy and initiatives affecting Verizon's business units and its regulatory organization.
Mr. Lewis joined The Chesapeake and Potomac Telephone Company of Virginia, now Verizon Virginia in 1986 as a group manager in the operator services department. He has held a succession of positions with increasing responsibilities in product line management, traffic engineering and planning, sales, regulatory, public policy and marketing.
Mr. Lewis has served on various boards, including chairman of DC Chamber of Commerce's Governing Board, the Board of Trustees of Elizabeth City State University, the Board of Associates of Gallaudet University, the Greater Washington Board of Trade, the DC Workforce Investment Council, District of Columbia College Access Program (DC-CAP), the Washington Performing Arts Society, the Federal City Council and the Cultural Alliance of Greater Washington. He currently serves on the boards of Fight for Children, the Alvin Ailey American Dance Theater, and the corporate advisory board for the Johns Hopkins University Cary School of Business.
Mr. Lewis holds a bachelor's degree in business from Elizabeth City State University and a master's of business administration degree from Johns Hopkins University. He also graduated from the University of Pennsylvania's Wharton School of Business Leadership Development Program and the Johns Hopkins University Leadership Development Program.