Ready to lead. Prepared to succeed.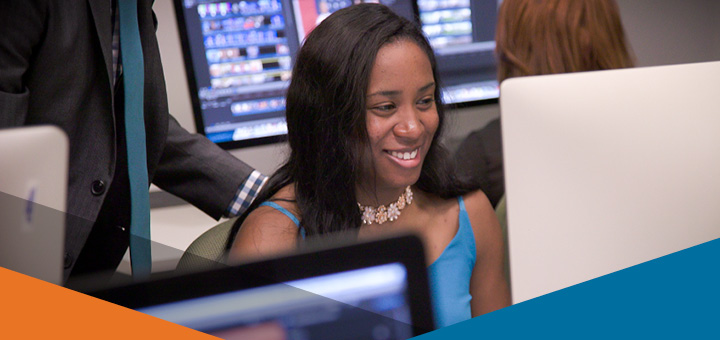 Your organization thrives when you partner with Bowie State.
Looking for your newest hires? Want to recruit an ambitious intern or host a Job Shadow Day? We can help you connect to our diverse, engaged student community.
Bowie State's affordable, high-quality education gives our students access to state-of-the-art facilities and hands-on experiences in and out of the classroom. They are ready to make a difference for your organization from day one.
Meet Our Students
CIERRA
CAMPBELL

Cierra Campbell balances her work as a communication major and dream of being a filmmaker with a commitment to her teammates in the Bowie State track program and a commitment to her country in the ROTC.
NICHELLE
HICKS

Nichelle Hicks earned a prestigious D.C. tech internship as part of her studies in the Bowie State IT program while simultaneously fostering her love of theater as a lighting designer in several student productions.
What's special about Bowie State?
We develop skilled, thoughtful students who can immediately support your work. At Bowie State, students benefit from:
Diverse academic offerings in areas like business, cybersecurity, biotechnology, special education and criminal justice
Hands-on, real-world experiences in their fields
Opportunities to explore their passions and develop as leaders
Our students and alumni are making a difference.
Tap into our powerful local network of talented Bowie State students and successful alumni. Our students receive a quality educational foundation. Our graduates are achievers at the top levels of their fields.
Founded in 1865, Bowie State has built a legacy as Maryland's oldest historically black university that continues to grow highly prepared graduates who impact the region's economy.
Bowie State is ranked among the top 30 HBCUs by U.S. News and World Report
Bowie State has a top-five ranking among Maryland universities for graduating African Americans with bachelor's degrees in biology and computer science
Bowie State's cybersecurity programs have been recognized as a model of excellence in information assurance education by the National Security Agency and the Department of Homeland Security