Getting Started with iCAN - for Students
iCAN provides you with one central location to find the people on campus who can help you succeed. iCAN also gives you an easy way to schedule the dedicated time you need with your instructors, advisors and counselors.
You can get to iCAN by logging into BSU Online and clicking on the iCAN tab:

Setting up your profile
Your profile lets instructors and advisors know who you are and how to contact you. It also includes the email address for where you want to receive updates and reminders. You can add an alternate email address and specify where you receive your notifications.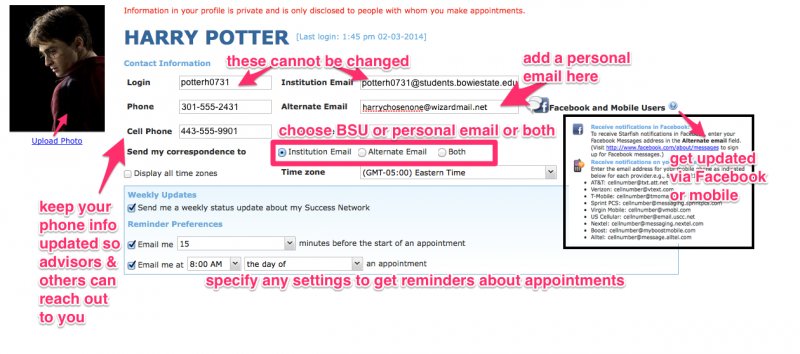 Reviewing Notifications
The My Success Path channel on your iCAN home page may include alerts related to your class work as well as recommended referrals to campus support offices to help you succeed. You might receive email notifications for the items listed here as well.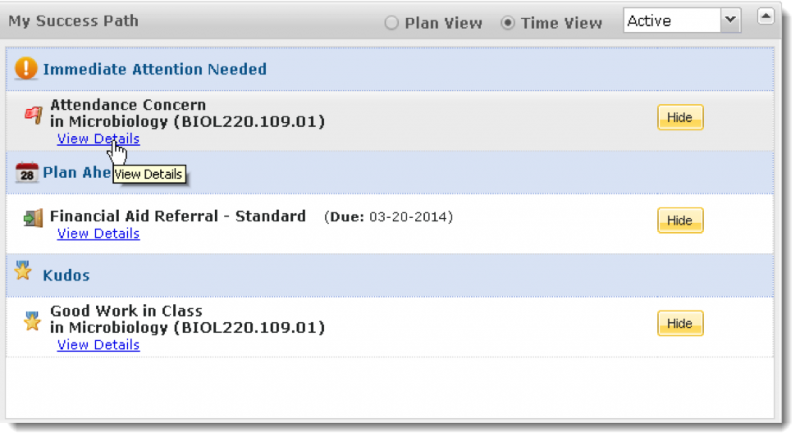 Click the "View Details" link associated with an item listed in "My Success Path" to get more information about the item. From there, you can make an appointment with your instructor or an advisor, or visit a tutoring center.
Make an Appointment with a Current Instructor or Advisor
If your instructor or advisor has set up office hours in iCAN, you can request an appointment through the system.
1. Click the "See Available appointments" link in the Courses I'm Taking channel, for any course to view your instructor's calendar.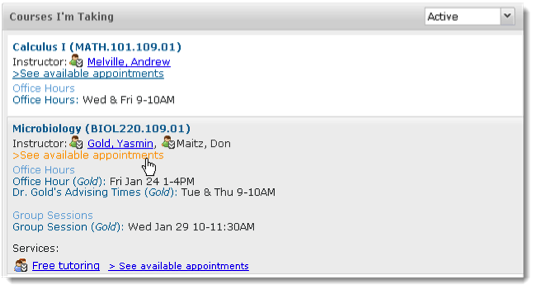 2. Move through the calendar using the mini calendar tool located in the left column. All dates with available office hours will be bold.
3. Click the Sign up link associated with an available meeting time.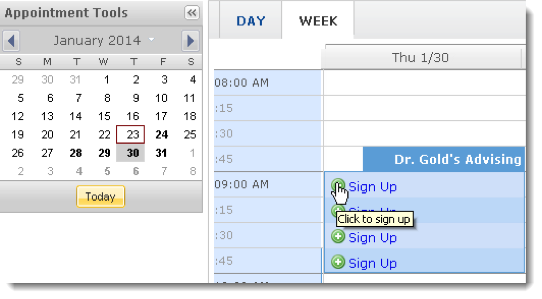 4. Complete the form by selecting a reason for the meeting and including a detailed description to help your instructor prepare for your meeting.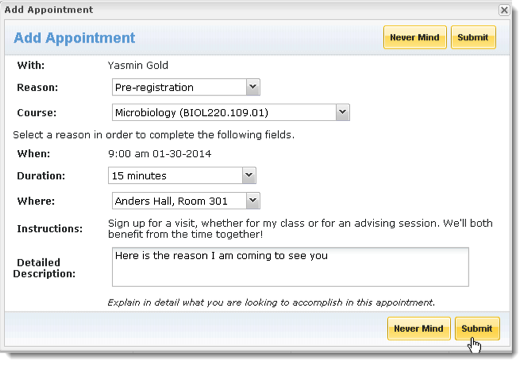 5. Click the Save button. You'll get an email confirmation of the appointment.

Your existing appointments will be listed in your Appointments channel. Click the calendar icon for additional information.
To make an appointment with an advisor, counselor, past instructors, or any other person on campus with whom you can make appointments, use the "See Available appointments" link in the My Success Network channel on your iCAN home page. Use the same steps outlined above for making an appointment with your instructor.
Accessing Campus Support Resources from the Success Network
Certain counselors and advisors may be listed in your personal My Success Network channel, but other individuals and services can be found in the broader Success Network. You can learn about the staff affiliated with a service or make an appointment.

Frequently Asked Questions
What if I don't see anyone listed in My Success Network?
Your specific advisors or counselors might not be assigned yet. Check back later or contact your institution's help desk for additional assistance.
What if I want emails going to somewhere other than my school email address?
Click the My Profile link at the top of the page to go to your profile. If your institution allows, you can provide an email address you prefer to use instead of, or in addition to, your school email address.
What if I click the Starfish link and get a "You do not have access" message?
Contact your institution's help desk for assistance with accessing the Starfish system.
What if I need more help?
For technical issues, submit a ticket to the help desk at help@bowiestate.edu.
For questions regarding a flag, please contact your instructor or advisor.
For general feedback about iCAN, please email iCAN@bowiestate.edu