Graduation from Bowie State University is a major milestone in your life that is shared by the university community that has been an integral part of your achievement and growth. We are excited to celebrate your hard work and perseverance.
2022 Spring Commencement Ceremony
Friday, May 20, 2022, 10am | Bulldog Stadium
Keynote Speaker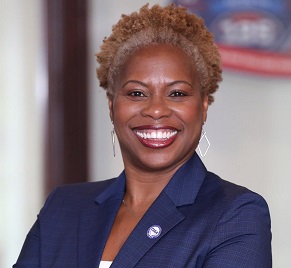 Jacqueline (Jacqie) McWilliams Parker is in her 9th season of serving as the Central Intercollegiate Athletic Association (CIAA) Commissioner. She is the first female to serve as Commissioner for the CIAA and first appointed African American female Commissioner representing Division I, II or III of the National Collegiate Athletic Association (NCAA). Read more about the keynote speaker.
COVID-19 Policy
With the significant decline in new COVID-19 infections across the State of Maryland, masks will be optional at Bulldog Stadium and in the indoor remote view locations. Additionally, social distancing will not be required. We encourage graduates and their guests to exercise personal responsibility and govern themselves according their own health and safety needs.
Clear Bag Policy
Bowie State University has implemented a clear bag policy for Commencement to provide a safer environment for the public and expedite entry into the Bulldog Stadium. This policy limits the size and types of bags permitted. Read more about the clear bag policy.