Bowie State University to Host HBCU Con
Black Nerds and Geeks Emphasize Importance of Their Intellectual Capital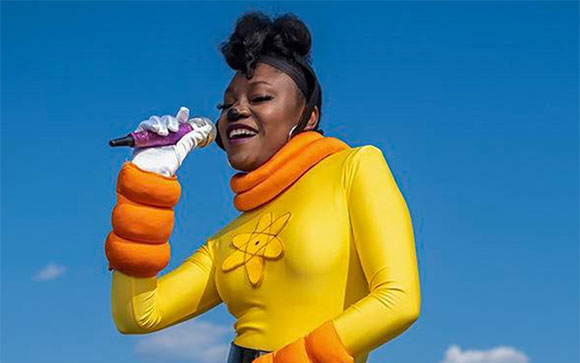 MEDIA CONTACT: David Thompson, dlthompson@bowiestate.edu, 301-860-4311
(BOWIE, Md.) – Hundreds of students from HBCUs and members of the general public will gather at Bowie State University from April 29 – May 1 to share their appreciation of mythical creatures, super heroes, fantasy, cartoon characters, and more at the second annual HBCU Con Convention. Unlike Comic Con in San Diego and Dragon Con in Atlanta, HBCU Con is a community celebrating and bridging the gap between HBCUs and Black geeks-at-large.
"HBCU Con is an important event and growing rapidly because it connects Geeks and Black nerds allowing for the creation of something unique to the HBCU culture," said Chauna Lawson, a 2009 BSU alum and founder and president of HBCU Con. "Geeks are individuals who are enthusiasts driven by a hobby and nerds are people who are intellectual and spend a substantial amount of time on non-mainstream activities. For years there has been an unspoken narrative to shy away from Black super hero figures, culture, and HBCUs but with the release of the movie Black Panther, Black geeks and nerds are taking it to an entire new level," Lawson added.
Denys Cowan, who co- founded Milestone Comics in 1993 to address the lack of minorities represented in the industry, will lea a discussion during the convention about the art of storytelling. Other features will include a video gaming tournament, geek fashion show, an HBCU Con Step Exhibition, a homecoming band, and a Yard Fest on Saturday afternoon with food trucks, live musical performances, and a variety of vendors.
HBCU Con will host a Black Fae Day meet-up on Saturday for attendees in costumes of mythical characters. Black Fae Day, a day dedicated to people adorning mermaid, elf, gorgon, and other costumes, was created by Jasmine LaFleur to promote positive representation of Black people in mainstream media, particularly in fantasy.
"There is going to be something for everyone at this year's HBCU Con including fantasy fashion designers," said Lawson. "The HBCU experience has played a vital role in shaping who we are as nerds, and continues to serve as a hub to Black nerds around the world. This unique lifestyle is rooted in the African diaspora's contributions to academia and culture," she said.
"We want the HBCU Con convention to be a regular event here," said Professor Tewodross M. Williams, chair of the Fine and Performing Arts Department at Bowie State University. "Students and the general public need to understand that the comic and fantasy industry is a multi-billion dollar international enterprise with unlimited opportunities."
HBCUs were among the first institutionalized safe spaces for Black nerds in America, and HBCU Con seeks to highlight the context and vitality of these spaces via its special events, programs and campaigns.
HBCU Con will be held at the Fine and Performing Arts Center and at other venues on Bowie State University's campus.
###
About Bowie State University
Bowie State University (BSU) is an important higher education access portal for qualified persons from diverse academic and socioeconomic backgrounds, seeking a high-quality and affordable public comprehensive university. The university places special emphasis on the science, technology, cybersecurity, teacher education, business, and nursing disciplines within the context of a liberal arts education. For more information about BSU, visit bowiestate.edu.