Graduating Senior Transitions From Creating Imaginary Dragons to Training for Limb and Organ Regeneration
Bioinformatics Degree Prepares BSU Student for Johns Hopkins Ph.D. Program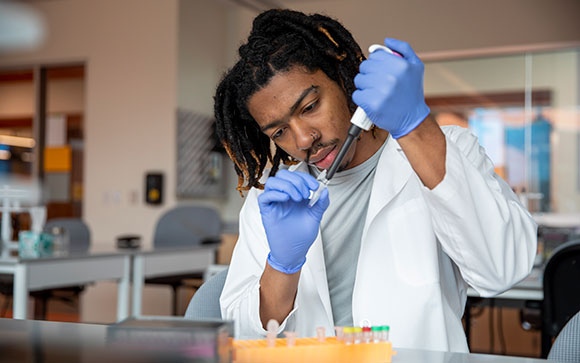 MEDIA CONTACT: David Thompson, dlthompson@bowiestate.edu, 301-860-4311
(BOWIE, Md.) – As a youngster, Benvindo Chicha just wanted to create a dragon and prove to everyone they were, in fact, real.
As he prepares to graduate from Bowie State University with a bachelor's degree in bioinformatics, Chicha now looks forward to a career working in limb and organ regeneration. He has been accepted into the Ph.D. program in Cell, Molecular, Developmental Biology, and Biophysics (CMDB) at Johns Hopkins University.
Chicha was originally a BSU biology major, but when Dr. Lucia Santacruz, associate professor of Natural Sciences, was recruiting for the then new bioinformatics major, he reconsidered as it provided the stronger research focus he desired. The experience included lots of hands-on experience with high-powered computational equipment that enabled him to view three-dimensional models of protein molecules and a two-dimensional map of how different molecules interact with each other.
While Chicha feels well prepared by the bioinformatics program, he was initially a little intimidated by the Ph.D. program offer. But he says he is looking forward to the opportunity for more "cool science," and gaining more experience working with some of the professors he's met at Hopkins.
"I want to reach that phase of my life where I'm not thinking, 'I want to be a scientist.' I'm looking forward to that phase where I am a scientist. That's what I do," he says.
Nearly 800 fellow graduates will join Chicha for the Spring Commencement ceremony in the BSU Bulldog Stadium on Friday, May 20 at 10 a.m. This will be the first fully in-person commencement with family and friends since December 2019. Graduates from December 2021 who did not participate in the hybrid ceremony are invited to join in the May celebration.
The commencement speaker is Jacqueline McWilliams Parker, commissioner of the Central Athletic Association and the first African American female to serve in that role in any Division I, II or II conference of the National Collegiate Athletic Association (NCAA).
Mrs. McWilliams Parker spent nine years at the NCAA managing national championships to include both the men's and women's Division I basketball tournaments. She started her career in coaching, compliance and administration at Virginia Union University followed by career growth opportunities at the CIAA, Norfolk State University and Morgan State.
All COVID-19 restrictions have been relaxed for the outdoor ceremony. Masks will be required at indoor remote viewing locations. Guests are encouraged to exercise personal responsibility to take precautions appropriate for your personal health situations.
###
About Bowie State University
Bowie State University (BSU) is an important higher education access portal for qualified persons from diverse academic and socioeconomic backgrounds, seeking a high-quality and affordable public comprehensive university. The university places special emphasis on the science, technology, cybersecurity, teacher education, business, and nursing disciplines within the context of a liberal arts education. For more information about BSU, visit bowiestate.edu.