Guest Lecturer: Nomaindiya C. Mfeketo, Ambassador of South Africa
10:00 AM - 11:00 AM
As part of our annual African Ambassador's Forum, Her Excellency Ambassador Nomaindiya C. Mfeketo of South Africa to deliver a lecture and share information about her country.
The event is sponsored by the Department of History & Government in collaboration with the College of Arts & Sciences' Center for Global Engagement, on March 4, 2022 @ 10:00-11:00 a.m.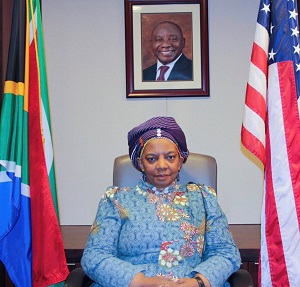 Nomaindiya Cathleen Mfeketo has been the South African Ambassador to the United States since March 2020.
Social injustice and the brutality of the Apartheid system motivated Nomaindiya to enter into active politics at a tender age of 23. Nomaindiya played a critical role in post 1976 family support of detained students leading to active engagement with a number of non-governmental organisations (NGO) including the agricultural training NGO ZAKH, the Social Change Assistance Trust (SCAT) and the Development Action Group (DAG) focused mainly on a public housing project
Nomaindiya served as South Africa's Minister of Human Settlements (2018 - 2019) and Deputy Minister of the Department of International Relations and Cooperation (2014 - 2018) a role in which she worked closely on the Palestine question, the Middle East Peace Process and BRICS.
Contact
Benjamin Arah

Phone: 3013606300

Categories