Switching Courses from Traditional to Online with BSU Online
When classes need to be delayed or cancelled for a short time – for example, inclement weather conditions, personal illness, conference travel – Bowie State University provides several resources to faculty to continue teaching and support student learning. Distance education methods are excellent alternatives to support missed classroom time.
Blackboard Learn
At the heart of BSU Online is Blackboard Learn, the University's learning management system. Externally hosted to ensure stability and reliability, Blackboard offers three core components: content management; communication, collaboration & engagement; and assessment & grade management.
Content Management



Upload syllabus, course materials & handouts
Post presentations
Share links & resources
Embed YouTube videos
Record with webcam to embed video announcements or promote increased student engagement with video prompts/responses
Communication, Collaboration, and Engagement
Facilitate & continue course discussions
Send email & messages
Post announcements
Manage small group activities
Support blogs, wikis & journals
Assessment and Grade Management
Distribute & collect assignments
Grade electronically
Embed feedback
Post grades
Maintain digital gradebook
Deliver tests
Score with rubrics
Blackboard Collaborate
Whether you have two learners or two hundred, Blackboard Collaborate supports live, real-time lectures, presentations, and conversations. Collaborate gives you a wide range of functionality such as two-way VoIP (Voice over Internet Protocol), multi-point video, and built-in phone conferencing; interactive whiteboard, application and desktop sharing; breakout rooms and mobile collaboration; and session recording.
You can use Collaborate to:
deliver live or pre-record lectures
host office hours
meet in virtual classrooms with students during scheduled times
demonstrate software such as SPSS or Photoshop
provide tutoring support
invite guest speakers
record & share sessions
No special equipment is needed except a telephone for built-in teleconferencing or a microphone/headset and VoIP, though broadband internet is highly recommended.
TELEPHONE: With Blackboard Collaborate, you can select built-in teleconference, which will dynamically generate the conference call number, leader PIN, and participant PIN. Students and guests accessing a session will see this information before they enter the room. Toll charges will apply with built-in teleconferencing.
VoIP: With the VoIP option, however, users can hear the session through their computer speakers or a USB headset. With a headset, outside noises and echoes are diminished. VoIP also helps you distinguish among speakers. A microphone icon appears next to the participant's name when he or she speaks.
MOBILE: Students can participate via desktop or mobile app for iPhone/iPad and Android with wifi or their chosen cellular plan. Two-way audio is available using the device's built-in microphone, but the app cannot be used to lead or manage a live session.
Using Collaborate is as simple as going to Control Panel -> Course Tools -> Blackboard Collaborate. Next, click Launch Room to enter a room.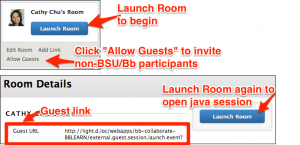 Blackboard Learn Mobile App
The Blackboard Mobile app gives students and faculty access to their courses, content, and organizations on a variety of mobile devices including Android and iPhone/iPad. In the event of a power failure or limited internet access, the mobile app is a useful way to keep in touch with your students and maintain academic integrity.
Use Mobile to access documents in multiple formats or upload media such as images and video. You can create content items using the touch screen interface on your device.
Post announcements to your course and keep students updated while on the go or out of town. Create, follow, and participate in discussion threads, maintaining presence and reinforcing course content and student learning. Comment on student blogs and journals.
Link your Dropbox account and easily manage critical course documents in various content areas from your mobile device, without ever leaving the app. Upload files up to 10 MB in size, including Word, Excel, PowerPoint, and PDF. You can also save course content to your personal Dropbox and upload files to discussions and blogs with a single click.
Students benefit from using the mobile app, too. If they're on the go, suffering from a power outage, or have limited internet access, they can find out how they did on their last midterm or homework assignment by using the Grades tool, or have instant, on-the-go access to the latest Announcements. Students can keep up with course discussions and read course content.
NOTE: The app itself is free to download. A personal license costs $1.99 per year or $5.99 for a permanent license. Fees are an in-app purchase directly to Blackboard.
Turnitin Originality Check
Check student work for improper citation or potential plagiarism by comparing it against the world's largest academic database. Verify student research and citation techniques. Provide better feedback by quickly dragging standard or custom marks and comments directly on the paper. Process student papers against the ETS e-Rater tool for spelling and grammar.
Turnitin can be used at any time by creating a Turnitin assignment in Blackboard Learn. Grade data automatically synchronizes with the Blackboard grade center.
Smarthinking Virtual Tutoring
In emergencies and in times of calm, instructors can refer students to online tutors for live support up to 24 hours a day, 7 days a week. Please encourage students to submit papers for lower order (grammar and mechanics, sentence structure, word choice, and documentation) or high order concern (main idea/thesis, content development, organization, and introduction/conclusion) -- they should receive feedback within 48 hours.
Subjects available include:
Basic Math Skills, Algebra, Trigonometry, Calculus, Calculus II
Biology, General Chemistry, Organic Chemistry, Physics, Introduction to Human Anatomy, Physiology
Accounting, Introductory Finance, Statistics, Economics
Spanish
Writing
Students can also interact with tutors using an iPad app.