Solar Power Launch Ceremony

Photo Gallery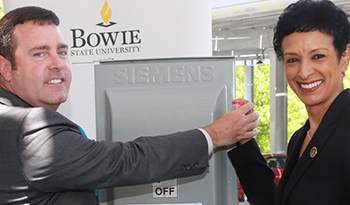 See photos from the opening day ceremony
On Monday, May 21, 2018, on a beautiful spring day under the solar panel canopy of Parking Lot D, the Bowie State University community along with representatives from WGL Energy and SGC Power celebrated the launching of the solar panel system program on campus. During the 11 a.m. program, President Aminta H. Breaux, Michael Atkins, Interim VP of Administration and Finance, Michael Harris, Capital Projects Manager and Jack Hachmann, Director of Commercial Operations from WGL Energy joined with other dignitaries and the campus community to ceremoniously 'flip the switch' to activate the university's solar power system. The system will generate about 10 percent of the campus's energy needs.
"We hope this is just the beginning of many more alternative energy projects that will continue to demonstrate our commitment to sustainability," said Michael Atkins, Interim VP of Administration and Finance. "As the guardian of the University's financial viability, a project such as this ensures long term stability of electricity pricing with regard to the overall energy market which is expected to be volatile in the future."
The Maryland Energy Administration (MEA) provided a $150,000 grant which enabled the University to partner with WGL Energy in installing a 1.6-megawatt solar power system across four sites of the campus. In addition to the solar canopy in Lot D, there are solar panels on the roofs of Thurgood Marshall Library and the James Physical Education Complex, as well as a ground installment at an open field near the Bulldog Softball field. Two charging stations for electric vehicles were also installed under the Lot D solar canopy as a part of the project.
"It is the direction of higher education to utilize alternative forms of energy," said Michael Harris, BSU capital project manager. "Bowie State is aligned with the national trend in higher education to implement solar power projects." President Breaux also acknowledged the work of Dr. Karl Brockenbrough (retired) in spearheading the effort, and the tireless efforts of the BSU's C4 (Climate Commitment Coordinating Committee) group. The present C4 committee members along with Michael Atkins, Michael Harris, and President Breaux stood behind the switch with WGL representatives for a photo opportunity as President Breaux symbolically flipped the switch from the off to the on position. David Comas of MEA attended as well as BSU TV and local media affiliate, CTV.
Jack Hachmann of WGL recognized the big picture of this project. "We know how important it is to support college students of today since they represent the next generation of professionals that will be making a difference in their hometown, to local organizations, to their families and friends, to make a productive mark on society."
C4 Chairman Jabari Walker defines the project as an important step in furthering support of the University's sustainability goals, BSU's commitment to lowering its carbon footprint, and remaining an institutional leader in environmental responsibility within Maryland and across the globe.