Dr. Aaron Bolds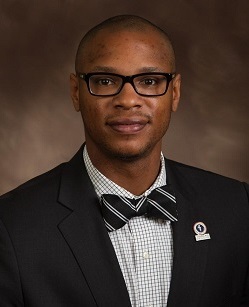 The Class of 2020 was greeted by a Bowie alumnus and COVID-19 doctor during the Department of Natural Sciences Virtual Graduation Celebration. Dr. Aaron Bolds completed undergraduate studies at Bowie State University in 2012. Dr. Bolds then earned a M.D., MBA dual degree from Howard University in 2018, and is currently completing residency at Mount Sinai Hospital in NYC. Dr. Bolds has been working on the Frontlines treating COVID-19 patients in one of New York's hardest hit hospital.
Much of Dr. Bolds's time has been invested in mentoring and helping young students matriculate into undergraduate and professional programs. Mentoring aligns with his mission to help bridge healthcare inequality gaps and increase the number of minority healthcare professionals. Dr. Bolds's professional goals are to be a National Basketball Association team physician and then open a Sports medicine practice, with emphasis on overall health, fitness, and preventative medicine. Working out, cycling and spending time with family is how Dr. Bolds spends his spare time.
Dr. Sharma Cook-Richardson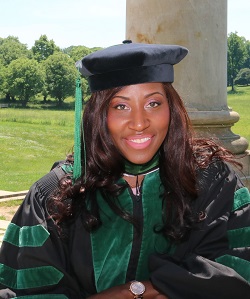 Sharma Cook-Richardson (B.S. 2010) has devoted her life to Christ, education, research, and serving underserved and underrepresented communities. Currently serving as the Surgical Clinical Research Fellow at one of the leading hospitals in the Washington DC, Maryland and Virginia area, Dr. Richardson has made it a point to address universal healthcare disparities in and out of the operating room.
As a native of Washington, DC, Dr. Richardson grew up in a loving family that spent most of their time in church. Playing piano for choirs taught her the importance of perseverance and teamwork, but her love for science and community service sparked her interest in medicine. Upon earning her high school diploma from Oxon Hill High School, Dr. Richardson matriculated with early acceptance into Bowie State University (BSU) with the dream of becoming a Physician.
Dr. Richardson's determination and strong support system allowed her to complete her Baccalaureate of Science majoring in Biology and minoring in Chemistry from Bowie State University in 2010. Following graduation, Dr. Richardson completed a post-baccalaureate in malaria vaccine development at the National Institute of Allergy and Infectious Disease, National Institutes of Health. Next, Dr. Richardson completed a second post-baccalaureate with the Georgetown Experimental Medical Studies (GEMS) program, and directly matriculated into Georgetown University School of Medicine (GUSOM) earning her Doctorate of Medicine (M.D.) in 2019. Dr. Richardson then went on to complete a preliminary-residency year at the University of Kentucky with a focus in surgery and anatomical radiology.
Since graduating from BSU, Dr. Richardson diligently returns annually to her alma mater encourage students to pursue their dreams. She has won awards for her surgical research, published scientific abstracts and manuscripts, presented at national surgical conferences, and won the BSU Alumni of the Year award in 2013. The abundant support that she received throughout her journey from family, friends, and various academic institutions has instilled a strong desire to give back to communities in need and to build Science, Technology, Engineering, and Mathematics (STEM) opportunities in an effort to pay it forward for generations to come.
Dr. Richardson is completing her surgical residency at a Level-1 Trauma Hospital in Pennsylvania in aspiration of becoming fellowship trained scientist surgeon.
Dr. Jateh Major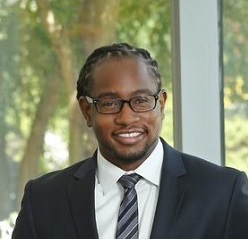 Jateh Major graduated from Bowie State University in 2012 with a BS in Biology and minor in Chemistry. After which time he entered Pharmacy school at Howard University College of Pharmacy where he was very active. Upon graduation with his PharmD in 2017 Dr. Major worked as a Postdoctoral Fellow at Merck in Global Regulatory Affairs. He later became a Senior Scientist at Merck. As of August 2020, Dr. Major is the Associate Director of Regulatory Affairs Oncology at Bristol Myers Squibb.
Dr. Major enjoys spending time with his family and friends. He also is a strong mentor and advocate for minority participation in pharmaceutical research and clinical trials.