Department of Management Information Systems
Generalist Digital Tech Credential
The Generalist Digital Tech Credential in Data Analysis helps undergraduate students develop in-demand digital technology skills and access employment opportunities at leading Capital Region companies. Together with Bowie State University (BSU) and the region's top business leaders, Capital CoLAB designed the Digital Technology Generalist Certificate to integrate digital tech skills into the university's academic curriculum with real world application.
By taking a selection of three classes, BSU students of all majors can gain sought-after introductory technology capabilities that support their field of study and receive a generalist certificate from BSU through the Capital CoLAB's Digital Technology Credential program.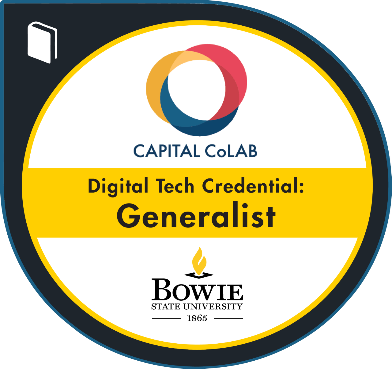 Why Choose the Credential?
Digital Technology Generalist Certificate students are targeted for recruitment by Capital CoLAB companies and provided access to exclusive professional development opportunities.
Eligible courses that have been previously completed can be counted towards the certificate.
Capital CoLab employers have agreed to offer a range of benefits to Capital CoLab students, including: mentoring, coaching, job shadowing, experience credit, resume review, priority interviews for internships and jobs, receptions with senior executives, and financial incentives for new hires.
The GWP is annually donating $35,000 in scholarships for up to 14 students who pursue the Generalist Digital Tech Credential in Data Analysis. Apply for a GWP scholarship here no later than September 9th, 2022 or email robeidat@bowiestate.edu for CoLab scholarship requirements.
Credential Requirements
The Capital CoLAB Digital Tech Credential is open to any undergraduate major at Bowie State. The certificate requirements are successful completion of the following three courses:
DANL 280 Foundations of Data Sciences and Analytics (Prereq. BUIS 260 or equivalent) (3): This course can be used to satisfy a general education elective or free elective requirement. This course is offered in Fall, Winter, Spring and Summer semesters.
DANL 340 Visualization and Visual Analytics (**Prereq. DANL 280 or equivalent; and a statistics class) (3): This course focuses on descriptive analytics and covers design principles, methods, techniques and tools for visualization of data, information and/or knowledge from various sources and in various domain areas including natural sciences, information systems, cybersecurity, businesses and social sciences. The course also covers visual analytics techniques, tools and their applications. This course is offered in Spring semester.
ECON 351 Business Statistics (Prereq. MATH 125) / MATH 155 College Algebra/ Other Statistics Courses in the Colleges of Education or Professional Studies like PSYC 204 Statistics I.
More Information
For more information about the Generalist Digital Tech Credential in Data Analysis, contact Dr. Rand Obeidat, assistant professor and program coordinator of the Data Analytics program, at
robeidat@bowiestate.edu
or Dr. Azene Zenebe, Professor of information systems and chair of the MIS department at
azenebe@bowiestate.edu
.