Instruct and Inspire the Next Generation
Before the days of social media, teachers were the original influencers. At Bowie State, we believe they still are. If your dreams include guiding the next generation and harnessing the power of the classroom, the Master of Arts in Teaching (MAT) program is designed for you. Collaborate with fellow students, connect with BSU faculty and hone your skills with local school district leaders. Our graduates are making an impact in local communities as teachers, department chairs, team leaders and school administrators. Education is essential. At Bowie State, it thrives.
Our MAT program is a Maryland-Approved Program (MAP) through the Maryland State Department of Education and meets Council for the Accreditation of Educator Preparation (CAEP) requirements.
< Return to the Department of Teaching, Learning & Professional Development
What You'll Learn

Program Requirements

Admissions Requirements
In the Master of Arts in Teaching program, you'll learn the skills you need to be a highly effective professional educator. You will:
Build a foundation in cognitive psychology to understand how people learn
Evaluate both strengths and weaknesses to help you elevate your skills
Develop an understanding of curriculum that makes an impact
Assess a student's culture and how it relates to a learning environment to enhance teaching and learning
The Bowie State Advantage
Network of effective educators: Connect with BSU faculty, a group of experienced educators who are rooted in how schools work.
Valuable in-class experiences: Intern at one of BSU's nationally recognized professional development schools, often staffed with teachers and administrators who are BSU alumni.
Affordable, high-quality education: Further your education without breaking the bank. BSU is recognized as one of the most affordable, high-quality graduate programs in the Washington, DC and Baltimore areas.
Alumni Spotlight: George Crawford ('15)
Current Job: Media/Visual Arts Instructor & Department Chair at Fairmont Heights High School
Favorite Part of the Program: Collaborating with my classmates. I had a very supportive group of individuals who completed the program with me. I also enjoyed the bond I shared with my instructors.
What Attracted You to Bowie State University: It was an HBCU and it was local. It had a program that was perfect for me.
One Thing You Learned at BSU That Made a Difference: I learned how to write and organize my thoughts at a much higher level.
Advice for Prospective Students: This program is challenging but rewarding. I enjoyed the experience and was very proud of myself for finishing. I could not be where I am today without this program.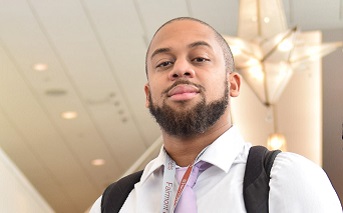 Alumni Spotlight: Dr. Alycia Marshall ('98)
Current Job: Interim Vice President for Learning, Anne Arundel Community College
Favorite Part of the Program: The internship and teaching opportunities. I loved actually being in the classroom and the hands-on training with the students and the feedback the professor had for me when he came to visit me at the high school where I was teaching at the time.
What Attracted You to Bowie State University: The convenience of the location. I was virtually living down the street at the time. Also, my interest in attending an HBCU and the great things I had heard about BSU.
One Thing You Learned at BSU That Made a Difference: Hard work and determination. I was in my first years of teaching right of out college and I learned quickly how to work hard after work hours in order to accomplish my goals. I have taken that experience and value system and applied it to daily life, which has helped me meet all of my professional and personal goals.
Advice for Prospective Students: Set your course, remain focused and work hard to achieve your goals. Life is not promised. There is never going to be a better time to start on the path towards accomplishing your goals.
Our goal is to make sure our students are prepared. Some choose to continue their education. A majority of them leave with a job. Our graduates have so many options. They choose where they want to go.
- Dr. Julius Davis, Program Faculty