BSU Student Veterans Association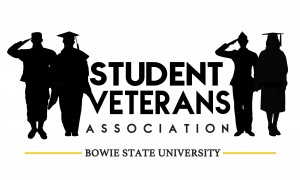 The Bowie State University Student Veterans Association proudly serves the students at Bowie State who have served, are serving or will be commissioned to serve in the United States Armed Military.
The BSU-SVA is a recognized student organization at the university under the auspices of the Graduate Student Association. The Constitution and By Laws can be read here (pdf).
Members of the Bowie Community may join the BSU-SVA as regular or affiliate members in order to foster a campus environment respectful and helpful to our students who have served or are serving in the United States Armed Forces. Come out and participate in the monthly meetings and activities sponsored by the association.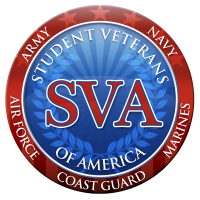 The BSU-SVA isaffiliated with the Student Veterans of America. This national organization promotes the campus life and college opportunities for veterans. Learn more about the Student Veterans of America.
Veterans Day Program
Bowie State University's Veterans Day Celebration will be held on November 10, 2021 in the Student Center, Wiseman Ballroom beginning at 11 am. The program will honor the contributions and sacrifices made by the men and women who have served in the United States Armed Forces.