Mission
Bowie State University and the University of Maryland, in collaboration with the Lt. Richard Collins, III Foundation, strives to transform our nation using evidence-based social justice models.
Vision
The Bowie State University and University of Maryland Social Justice Alliance is dedicated to eradicating the ideology of intolerance, while confronting individuals and combatting systems that normalize indifference, justify injustice, perpetuate hate and inflict violence. We are committed to inspiring, educating and empowering individuals towards ensuring social justice and equity for all. Through this alliance, the legacy, light and spirit of Lt. Richard Collins, III will forever command the mission of social justice.
Background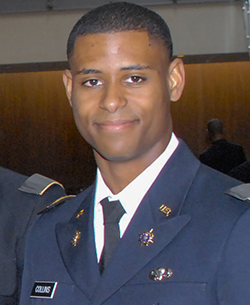 On May 20, 2017, Lt. Richard W. Collins III was murdered on the University of Maryland campus by a white UMD student. As an African American leader, scholar, and senior at Bowie State University poised to graduate, Lt. Collins was dedicated to his country through family generations of military service. His death by the hands of another student violates assumptions that young people are immune to racism and bigotry, particularly the pervasive white supremacy that informs cultural norms within the USA. This alliance brings together sister institutions of higher education impacted by the legacy of Lt. Collins.
As Maryland's first historically Black public university, established in 1865, Bowie State University (BSU) is committed to social justice change through advocacy and action that impacts local, state and national audiences and initiatives.
As the flagship institution of the University System of Maryland, the University of Maryland (UMD) was founded in 1856 and enrolled its first Black students in 1951. Today, diversity and inclusion are central to the university's mission as it supports research, teaching, and community partnerships to address the most pressing global challenges.
Areas of Focus
Social justice curriculum/program development
Collaborative research and grant proposals
Student organization on both campuses and nationally
Campus and community events for conscious social justice professional development
Content creation for national audiences and actions