Photo Gallery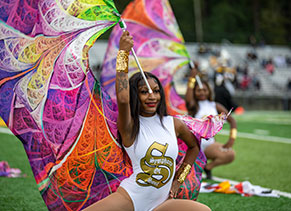 Come back home to celebrate during the week of October 2 - October 8, 2023.
Mark your calendars for our boldest black and gold event of the year! We look forward to having alumni, friends, and family join us on campus to honor our legacy. Get ready for step shows, concerts, and more. Connect with your BSU family and make unforgettable memories. And, of course, cheer on your Mighty Bulldogs as they take on Virginia State. We can't wait to see you there!
Game Day
BSU Bulldogs vs. Virginia State Trojans
Bulldog Stadium
Saturday, Oct. 7, 2023, 2 p.m.
Stay connected with BSU and the alumni of Bulldog Nation! @bowiestateuniversity & @bowiestatealumni