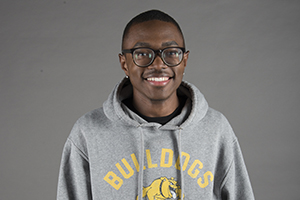 Hometown: Laurel, MD
Major: Music Technology
Classification: Senior
What are some BOLD moves you've made on campus?
I've established myself with the professors. I make sure they know what I do and who I am: a musician, a producer, a creative, an engineer.
What are you passionate about?
I'm passionate about creating and writing music because it's another way to express how I feel. I'm not a person of too many words. I prefer music.
What do you look forward to doing after you graduate?
I want to open my own home studio and go into music production, recording, engineering and composition - things like that.

What makes Bowie State special to you?
It's a home away from home. It's a whole community of people who look like me… and it's shown me where I fit academically, creatively, socially.
What makes you BOLD?
What makes me bold is who I represent. I'm a Christ follower and I'm allowed to be bold with the confidence that gives me.