Department of Fine and Performing Arts
About the Exhibition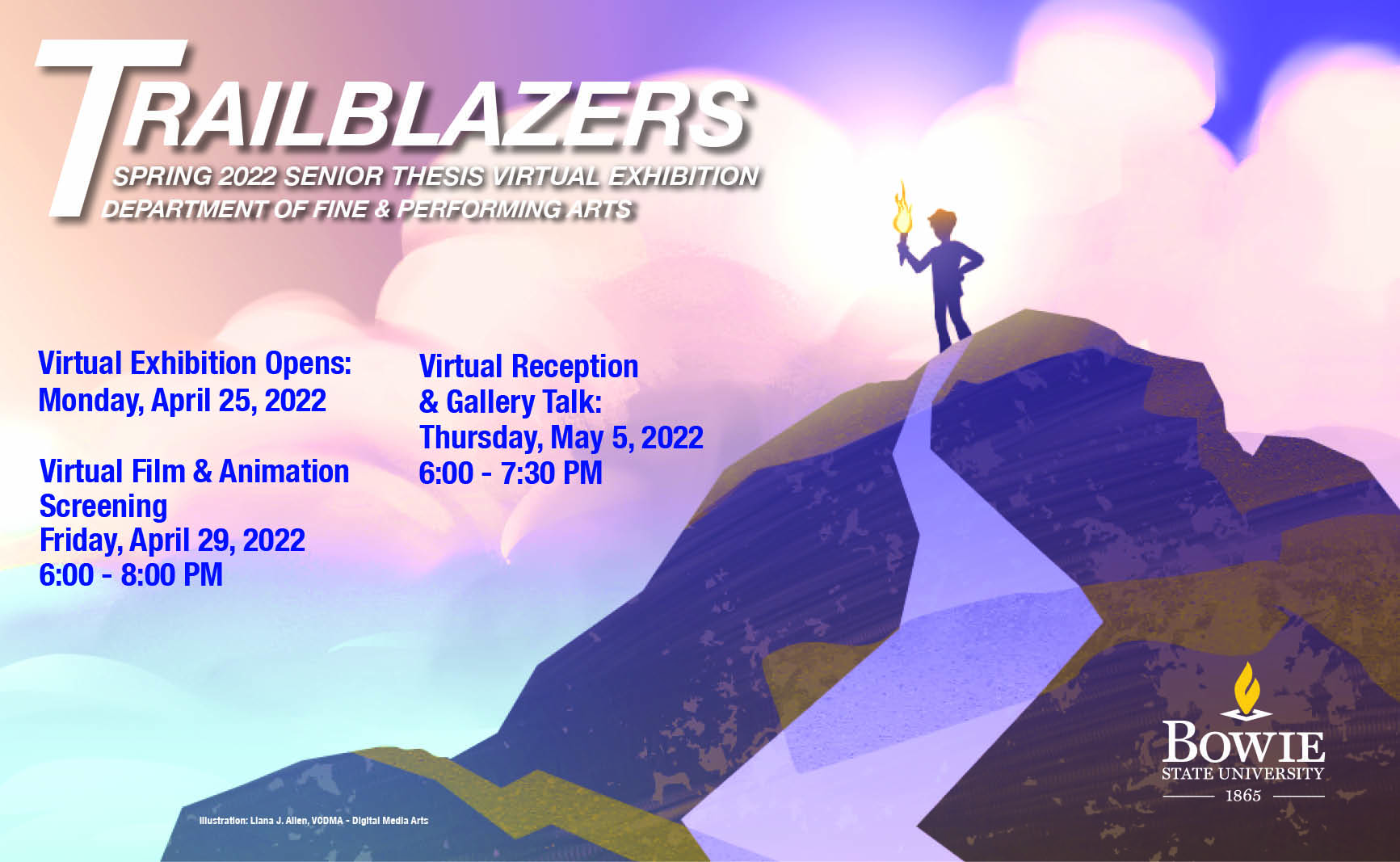 This Bowie State University graduating class of Spring 2022, entered BSU, or other higher education institutions, four or more years ago, well before COVID-19 was a household word. Their experience was one of living and participating in an environment open to freedom of movement, yet their final strides on their creative and academic journey have been amidst extreme disruption in our lives, social distancing, virtual learning, vaccinations, and now a lifestyle of masked face-to-face living makes for a very unbalanced society.
Through it all, these graduates have managed to look within themselves and rely on self-confidence, meditation, physical exercise, faith, family, and friends, to keep their creativity in tack. Yes, they did keep their eye on the prize of completing this part of their educational goals.
Seniors from the B.A. Fine Arts, Studio Art concentration, and the B.S. Visual Communication and Digital Media Art, Advertising Design, Animation, Digital Media Arts, Digital Cinema and Time-Based Media, and Fashion Design concentrations chose the theme "Trailblazers" to describe the common themes that are reoccurring in their exhibition. This theme came to mind after exploring everyone's individual concepts and noticing that they were all bold enough to conquer such topics that some may be hesitant to venture into, which they as a class tackled and successfully executed.
On behalf of the Bowie State University, College of Arts and Sciences, and the Department of Fine and Performing Arts, we want to invite families, guardians, friends, partners, fellow students, colleagues, and professionals in the field to enjoy the Spring 2022 Senior Thesis Virtual Exhibitions. We are sending our congratulations and encouragements as each Trailblazer climbs their mountain, filled with new challenges, and obstacles, on the way to a successful future. Just remember to keep in touch with your BSU family.
Rodney C. Williams
Visiting Faculty Lecturer
Department of Fine and Performing Arts
Visual Communication and Digital Media Art