Department of Technology & Security
CPU Camp
Contact Us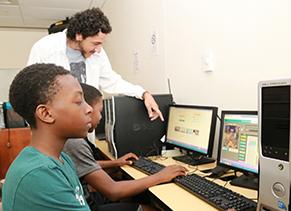 Computer Programming for the Under-represented (CPU) Camp
Virtual Summer Camp
Where: Virtual Sessions via Google Classroom and Zoom
Dates: Monday, June 27, 2022 - Friday, July 8, 2022
Time: 10:00 AM - 2:00 PM
Computer Programming for the Under-represented (CPU) is a summer program for middle and high school young men that provides innovative technology education to young men in the Washington, DC, Maryland, and Virginia areas.
Eligibility
Must be a middle (MS) or high school (HS) boy aged 12 to 17
Have an interest in computers and excelling in school
Committee will select 20 students, per camp (MS & HS),
Virtual sessions are FREE with limited available spots.
REGISTRATION IS NOT A GUARANTEE OF ACCEPTANCE TO THE CAMP!
Participants will be notified within 48 hours of submitting their online registration form.
If space is available, the camper will be added to the Camp List, otherwise, the student will be added to the waiting list.
If you receive a spot and no longer plan to attend, please inform us, so that the spot will be made available to the next applicant on the waiting list.
Included Topics
Introduction to computer programming
Cybersecurity, Computer Programming, Computer Networking and other STEM topics
3D Modeling and Animation
Algorithm design and logical thinking
College life and Time management
Guest Speakers (BSU President, Provost, Dean, Chairperson and various experts in the field)
Daily STEM Presentation with Kahoot Quizzes
Camp Competition (Camp Leaderboards tracking participation)
Being a scholar and a gentleman
Schedule (Tentative)
10:00 AM Middle School Instruction & Kahoot Quiz
11:00 AM High School Instruction & Kahoot Quiz
12:00 PM Lunch on your own & Independent Code.org time
1:00 PM Guest Speaker via Zoom– "Top One @ One!
2:00 PM -Camp Ends – Campers "homework": Complete the Daily – "Career's in Computing" PowerPoint Assignment
Note: Campers will not get graded on participation or assignments, however, each camp (MS and HS) will have a Leaderboard. Campers will gain points by completing assignments and participating. At the Closing Ceremony, campers at the TOP of each Leaderboard will win prizes donated by "Friends of the BSU CPU Camp."
How to Apply
BOTH the High School and Middle School camps are FULL, however, thanks for your interest in the 2022 BSU CPU Camp. Please keep us in mind for the Summer 2023 Camp, as applications will be made available next March 2023.