Department of Technology & Security
CPU Camp
Contact Us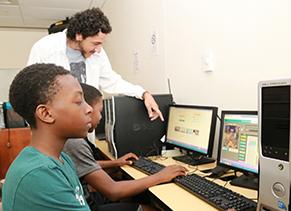 Computer Programming for the Under-represented (CPU) Camp
Summer Camp 2023
Where:

Bowie State University

Dates:

Monday, June 26, 2023 - Friday, July 7, 2023 (University closed July 4)

Time:

9:30 AM - 4:00 PM

Cost: $400 (includes all-you-can-eat lunch, materials, and supplies)
Computer Programming for the Under-represented (CPU) is a summer program for middle and high school young men that provides innovative technology education to young men in the Washington, DC, Maryland, and Virginia areas.
Eligibility
Must be a middle (MS) or high school (HS) boy aged 12 to 17

Have an interest in computers and excelling in school

Committee will select up to 20 students, per camp (MS & HS)

Application

s are due Friday, April 14th, 2023

Application includes: 1) Online Form 2) Teacher Recommendation and 3) Copy of most recent report card.

The committee will notify

selected campers on Friday, April 21st, 2023.

Registration is not a guarantee of acceptance to the camp.

If selected, the

$400 payment must be

received

by Monday, May 22, 2023.
Included Topics
Introduction to computer programming

Cybersecurity, Computer Programming, Computer Networking and other STEM topics

3D Modeling and Animation

Algorithm design and logical thinking

College life and Time management

Guest Speakers (BSU Administrators, faculty, students and various experts in the field)

Being a scholar and a gentleman
How to Apply
** UPDATE **
The high school registration deadline has passed. However, we will continue with "Rolling Registration" until the spots fill up. Complete the form below and follow the instructions at the end of the form.
Middle school camp is FULL. If you complete the form below, your child will be placed on the Middle School waiting list.
To apply, please complete the following 3 steps of the application:
Download the Teacher Recommendation form (docx).

Once your child's teacher completes the form, you may scan and email the form to

dstone@bowiestate.edu

Please obtain a copy of your child's most recent report card. You may scan the report card and email it to

dstone@bowiestate.edu