Faculty and students at Scholars Studio launch
Structure
The Faculty Think Tank Structure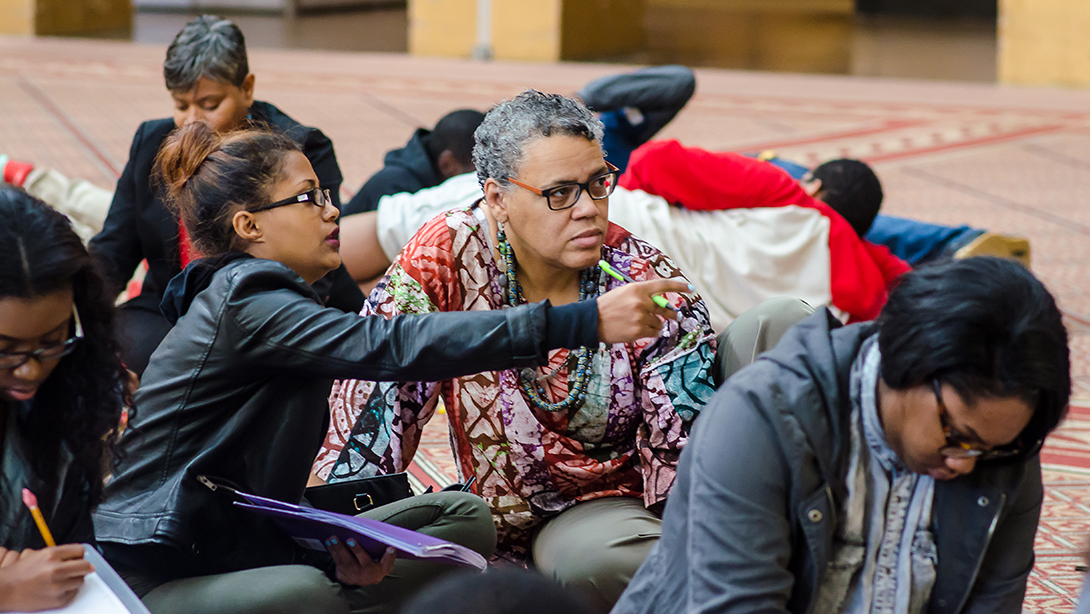 The Faculty Think Tank in Scholars Studio
The Faculty Think Tank provides space for instructional staff to consider the philosophical and practical dimension of teaching and learning. In this space, faculty help one another bring their aspirations for education to life. Faculty gather to think, share, plan, and realize a shared vision. It is a cooperative, coequal, interdisciplinary and integrative setting that engenders faculty discovery and development.
Faculty Think Tank is a space where the day-to-day realities of instructors meet their aspirations as educators and human beings. It is a space that is informal yet formalized. It is consequential yet playful. It is the arena in which the growth mindset of faculty members can yield remarkable collegiality, powerful teaching, and transformative learning.
At Bowie State University, the rigors of teaching a 4/4+ schedule can influence how instructors think about their disciplines, scholarship, and lives. Juggling classroom activities, research, writing, advising, service, assessment and advancing the institutional mission is challenging. There can be so much to do that faculty resort to what is expedient, not recognizing what can be lost when life becomes a series of checklists. Like our students, when they reduces their learning to tasks to check off, our joy, indeed our humanity, can suffer. When there seems to be too much work and too little time or compensation, then it is not difficult to become resentful, demoralized, or angry.
Faculty Think Tank values the cultivation of human beings in community. The aim is to draw out an nurture the best in faculty and to help faculty draw out the best in students. We aim to help one another identify new frontiers of discovery within ourselves and in the world. In Faculty Think Tank, we construct and advance knowledge together to gain the benefits of multiple perspectives, experiences, skills, and insights.
Faculty Think Tank supports learning communities we call Scholars Studio. The primary studio is where faculty members come together to consider a central research question, a cultural issue, a compelling text, a social justice concern, or come other aspect of the human condition that has captivated their curiosity and imagination.
Through a series of workshops, retreats, experiential learning activities, and planning sessions, faculty can examine what brought them to their fields of students, what they most want students to understand about their disciplines, and how they want to evolve as instructional guides.
Together, faculty design a program of study that may involve two, three, or four existing courses for first and (occasionally) second-year students. A cohort of students take the courses and engage in common assignments, readings, and co-curriculars as well as activities associated with the individual classes. Through bi-weekly meetings, faculty discuss course integration and student progress. They work with one another and Engaged Learning staff members to reflect on and refine their teaching practices to provide transformative experiences.
The Faculty Think Tank Outside of Scholars Studio
The Faculty Think Tank offers faculty a number of opportunities to engage in pedagogical explorations without the commitment of teaching in Scholars Studio. Faculty are invited to join us for semester-long interdisciplinary inquiries, co-curricular observations, retreats, and workshops.