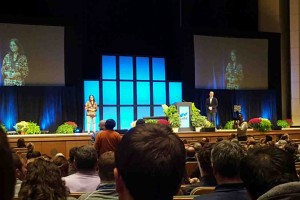 What will Campus Sustainability look like in the next 10 years? This and many other questions were posed and discussed this year at the 2015 annual AASHE conference (Association for the Advancement of Sustainability in Higher Education). 'Transforming Sustainability Education" was the theme and Minneapolis, Minnesota was the site for this year's conference held October 25-28. Thousands from higher education and businesses merge together to share ideas, innovations, and challenges of climate change and sustainability within higher education. Bowie State was well represented with two students and two staff members, the most from any HBCU.
The three day conference featured keynote speakers, hundreds of sessions, an exhibit hall with various vendors, and social networking events. There was also a separate student summit as well as a tour of University of Minnesota facilities & programs.
Sessions ranged in topics from campus engagement, food & dining services, investment & finance, to transportation, research methods, and more. The subject of climate change seemed to take on a different temper, with a deeper focus on the social and environmental justice components of sustainability. Next year's AASHE conference will be held in nearby Baltimore, MD. Bowie State University will be a sponsor institution.