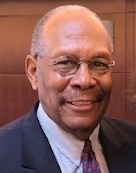 Lecturer and Program Coordinator, Emerging Media
Dwight M. Ellis, a graduate of Antonin Scalia Law School (previously George Mason University School of Law), is a full-time lecturer teaching graduate and undergraduate courses in Media Law, Media Ethics, Domestic Telecommunications Policy, Public Relations Management, and Corporate Telecommunications.
Prior to his responsibilities at BSU, Ellis served two decades as a Vice President with the National Association of Broadcasters (NAB), the premier trade association of the nation's free-over-the-air broadcast radio and television stations. Following his retirement from NAB in 2004, he founded and operated Dwight Ellis & Associates, a global media business and workforce development consultancy.
Ellis also served as Chief of Staff for retired Congresswoman Cardiss Collins (D-IL); founder of a public relations and advertising consulting firm; and five years as an NBC radio and television host. A past president of the Capital Press Club, Ellis is a member of the Public Relations Society of America and National Association of Black Journalists; an advisory board member of the National Press Foundation; a member of the Business Advisory Council of the Organization of Chinese Americans; a former newspaper media columnist for several African American newspapers; and former member of the George Foster Peabody Awards Board.
He has been the recipient of many awards and recognitions including the 2003 President's Medal from Southern Connecticut State University; the 2002 "Master Communicator Award" from the National Black Media Coalition; the "Golden Mike Award" from the Black Broadcasters Alliance for outstanding contributions over the years to broadcasting; the "Award for Distinguished Leadership In Communications" presented by National University's Board of Trustees; 1987 "Leadership In Communications Award" presented by the Dean of Howard University's School of Communications; and the "International Achievement Award" presented by the National Association of Media Women for his "superior contributions" in the U.S. and Canada.
Academic Publications
"Predicting the Impact of Artificial Intelligence and Robotic Technology on Contemporary Culture and Human Rights for a Utopian or Dystopian Future," 6th Annual International Conference on Contemporary Cultural Studies in Singapore, November 2018.
6th Annual International Conference on
Contemporary Cultural Studies (CCS 2018)
Copyright © GSTF 2018
ISSN 2382-5650
doi: 10.5176/2382-5650_CCS18.114 Author: Dwight M. Ellis