Commencement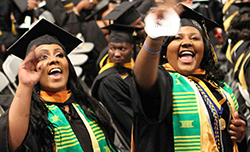 Caps and gowns? Photos? Maps and directions?
Students who have successfully completed all requirements for undergraduate and graduate degrees are eligible for graduation. You must apply for graduation by the deadline, even if you do not plan to participate in the commencement ceremony.
Here's what you need to know about applying for graduation:
Application Process
Undergraduate and graduate students must apply for graduation by the deadline using Bulldog Connection to initiate the official review of your records.
Here's how you apply for graduation:
Pay Online
If you are paying online, use your student ID number as the receipt number.

Pay the undergraduate application fee

Pay the graduate application fee

Allow the next business day when applying for graduation.

- or -

Pay In Person
Pay at the Cashier's Office between the hours of 8-4:30pm Monday-Friday. Please use the receipt number provided to you by the cashier when applying.
Apply for Graduation
Apply (or re-apply) using Bulldog Connection by clicking on: Self-Service > Degree Progress/Graduation > Apply for Graduation. Enter the receipt number for your graduation fee when completing the application.
Having trouble? Contact the BSU Help Desk at 301-860-HELP.
Application Deadlines
You must apply for graduation by the appropriate deadline:
Fall 2021 – Friday, October 8, 2021
Spring 2022 – Friday, February 18, 2022
Summer 2022 – Friday, July 1, 2022


Graduation Fee
When you apply for graduation, you will need to pay a one-time fee based on whether you are an undergraduate or graduate student. That fee is automatically applied to future applications, if needed.
Undergraduate Students: $75
Graduate Students: $100
Review and Clearance Process
After submitting your graduation application, here's what happens next:
Student Review
Check your records in Bulldog Connection to assure all information is complete and correct.
Review your academic record for all courses taken at BSU and all other institutions.
Make sure your personal information is up to date to assure that your diploma is printed correctly and all important communications reach you. Review your name, address, email address, and major.
Need to make corrections? Download the forms you need and submit them to Registrar's Office:

Changes your personal data? Use the Data Correction Form.
Changes to your major? Use the Declaration/Change of Major Form.
Questions or changes to your academic record? Use the Student Inquiry Form.
University Clearance Process
Your academic department will review all courses taken and course substitutions to confirm completion of all requirements for the major.
The Registrar's Office will review all courses taken to confirm completion of all university requirements for graduation.
The Student Accounts Office will review student financial records to confirm that all charges have been paid.
Checking Your Graduation Status
Notification of graduation review status will only be posted to your Bulldog Connection account. No email notification will be sent.
Final status changes will be posted during clearance week for fall 2020, January 4 - January 8, 2021. After logging into Bulldog Connection, click on GRADUATION STATUS. Status will show as PENDING until final grades are posted and all financial obligations have been resolved.
Students must be ACADEMICALLY and FINANCIALLY cleared to participate in the commencement ceremony. All fees must be paid, including the graduation fee, student accounts, parking, and library fines. Academically, all grades must be posted to your transcript, and all degree requirements must be satisfied.
After your status has changed to APPROVED, here's what you do:
Proceed to the ticket booth (beside the Bulldog Card Office) to pick up commencement tickets.
Pick up your cap and gown in the Columbia Room in the Student Center.